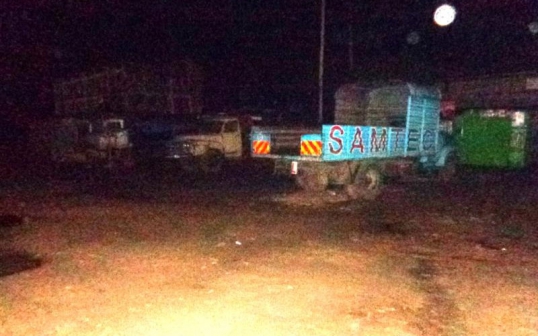 Kondele is arguably Kisumu City's 'shot time' district where for as little as Sh50, a 'night nurse' conveniently bends over for the service in between parked lorries.
Prostitution is rife in Kondele considering the large number of prostitutes who prowl the shops and pubs at night, the myriad dinghy hovels where sex goes on 24 hours a day and bend-over corners which are necessitated by anything shadow that can enable the service to be offered.
Welcome to Kondele where, as The Nairobian established, sex oozes from its orifices all day and night. And it doesn't matter how much you have; you will always be 'served'.
While this place has been known to the outside world as a battlefield of sorts for any politically-instigated dissent, whether the matter occurs in or outside Kisumu, Kondele has 'silently' remained Kisumu's Sodom and Gomorra where alcohol, sex and both petty and armed robbery go together.
At the centre of Kondele's flesh business are lorries involved in the vibrant transport business which is another major economic activity in Kondele, which park in front of an equally 'famous' Entebeview Hotel, a guest house where more than two-thirds of the rooms are occupied by commercial sex workers.
While the guest house is open for any patron, it requires a lot of guts for anyone with no interest in having the opposite sex for a night partner to get a room there given the swathe of sex workers who would accost you if you should show up there looking for a room.
The women would knock and plead with you to let them in, promising to give you fare charges. When The Nairobian visited the guest house at about 8 o'clock in the morning, there were a dozen commercial sex workers still standing at the entrance to the stairs waiting for clients.
"They operate twenty-four hours a day," said a source who is familiar with the operations at the guest house. "There are people who cannot sleep out at night because of their wives, so they come in the morning on their way to work," added the source.
When The Nairobian engaged a manager (who declined to give his name) of one of the guest houses within the same building (there are three floors, and the guest house in every floor is managed differently), he said most of his clients are sex workers but that does not mean any other patron cannot be admitted.
"Our rooms go for between Sh300 and Sh400 a night. That is bed alone without breakfast. So most of the rooms are normally occupied by the sex workers and sometimes they share a bed, meaning when one person gets a client, the other would be hunting for one and vice versa," he said.
He however denied sex happening between lorries which are parked in a stretch before shops with the guest house being one of them.
"What I know is that they go hunting for men out there and when they get them they bring them here (in the rooms). Saying that they do it between the lorries is a lie," said the manager.
However, The Nairobian established that not all sex workers at Kondele can 'afford' the rooms, some of which have been hired by 'more established' prostitute who in turn charge for any man brought in.
It is when the men cannot afford to pay for both the 'shot' and the room (the commission levied by the woman who has 'sublet' the guest room) that they are to the lorries for a quick service which could cost Sh50 and below.
"There is real desperation here," says Kennedy Ogada who declined to have his photo taken, and who has been 'serviced' on a number of occasions for just Sh20.
He says there are circumstances where the man and the sex worker involve in binge drinking until they discover that they have run out of cash and the man cannot afford the rooms which go for between Sh300 to Sh400.
"In such cases the woman has no otherwise but to take the little that is there to take home the following morning. With such kind of a situation, the parked lorries come in handy," says Ogada.
The 'rates' have however been on the rise with most of them raising the price bar to a minimum of Sh50 for a 'short time' no matter the circumstances.
"We have had to upgrade the rates given the tough economic times, and nowadays I can no longer take anything less than Sh50," says one of the night nurses interviewed by The Nairobian.
The lorry drivers who park their contraptions at Kondele have no qualms with the kind of gymnastics that take place around the contraptions every night.
"We have no problem with what goes on there at all for as long as there is no damage to the vehicles," says Yusuf Onyango (pictured), popularly known as 'Kilo' who is one of the drivers of the lorries.
"These days we don't have anything like seduction. It ended a long time ago. It is nowadays all about what your pocket says. So you live and let live. If I come from my lorry and I realize my blood is too hot for seriousness, I quickly climb the stairs to the guest house," says Kilo with a chuckle.
The world's oldest profession keeps Kondele busy, and while Entebeview is exposed and curious eyes can easily detect the robust activity that goes about, there are about four other dinghy hovels in the shanties within Kondele which also bustle with activity.
"While commercial sex in Kisumu is not a preserve of Kondele, it is at Kondele that we have the highest concentration of hovels which operate both day and night," says James Wanyande, a resident at Kondele.
Celine Achieng is one of the 'night nurses' but she doesn't park along the streets. She has a tiny mabati room complete with a bed where she pays the owner of the hovel Sh300 per day.
"I used to park here (Entebe) but I left. Problem is that business has not been well. Like now I have arrears stretching to Sh2000 but it is good the landlord is understanding," said Achieng.
The hovel where she has a 'room' is just but one of the many which have mushroomed in Kondele over the years.
Related Topics