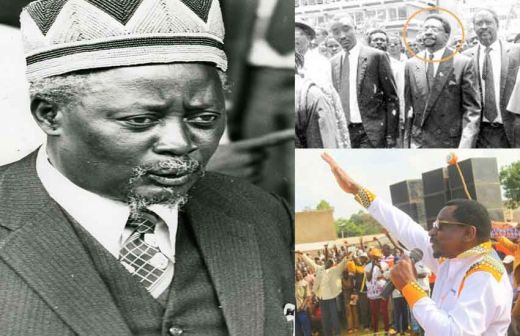 During the burial of Jaramogi Oginga Odinga an estimated 300,000 people gathered
Charged mourners carrying twigs escorted the hearse on foot for 33 kilometres
At exactly 3pm, Oginga was laid to rest, 10 metres from his own home
In 1994, it rained tears at Kang'o ka-Jaramogi. The only thing missing was a 21-gun salute.
But everyone came. President Daniel arap Moi, Democratic Party leader Mwai Kibaki, acting Ford Kenya chief Wamalwa Kijana, a youthful Uhuru Kenyatta, foreign envoys, religious leaders, rowdy university students, the small, the mighty and the powerful...they all came to Nyamira Kang'o.
The day was February 5, 1994 when an estimated 300,000 people - friends and foes - gathered.
It was not a funeral, but a festival, a celebration, a grand occasion where poetic dirges, incendiary speeches, historical and political wars and church and religion melted into a tapestry of the life and times of a political colossus whose voice and courage was never dimmed by detention.
It was not a State burial, but the national flag flapped at half-mast. Jaramogi's casket, imported from the UK, was made from wood hewed out of a 145-year-old tree. A hundred bulls were slaughtered.
The body was transported by road in a convoy of more than 300 cars.
Charged mourners carrying twigs escorted the hearse on foot for 33 kilometres from Awasi.
At exactly 3pm, Oginga was laid to rest, 10 metres from his own home, but not before James Orengo, his voice cracking with emotion, paraphrased William Shakespeare's Mark Antony, saying, "I come here to bury Odinga, not to praise him. I can say that my heart is in the coffin there with Odinga and I pause until it comes back to me. In that coffin lies a great man..."
Related Topics