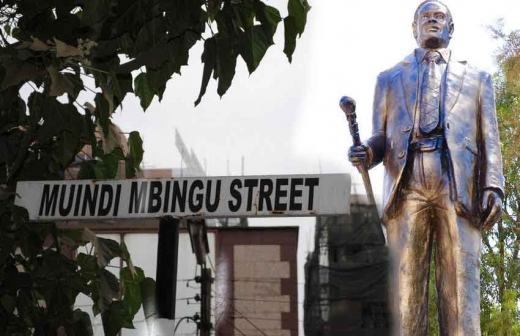 Muindi Mbingu was the face of Kamba freedom struggle
His undoing was speaking to the Governor in Kikamba
The reference to Maa umau (our grandfathers) got the colonialists assuming he part of Mau Mau
He has a street named after him in Nairobi and a secondary school and statue in Machakos County where the bronze statue was unveiled by President Uhuru Kenyatta during the 2016 Mashujaa Day.
The street in Nairobi was previously named Stewart, but is now Muindi Mbingu Street after the former Kenya Power and Colonial Police employee who became the face of the Akamba freedom struggle after they were evicted from their lands and condemned to the Native Reserves in 1937. Mbingu was 40.
Nairobi Governor Mike Sonko lives around Mua Hills where the Machakos District Commissioner pursued the destocking policy in which the colonialists forcefully confiscated Kamba cattle.
The government chief soil conservation officer, Colin Maher, attributed the Kamba poverty at the time as being over 'environmental degradation' caused by overgrazing according to Robert Tignor's Kamba Political Protest: The Destocking Controversy of 1938.
The Carter Land Commission recommended destocking, but in reality it was to cripple Kambas economically through snatching and slaughtering their wealth in Athi River where Liebegs Company had a meat canning factory.
This explains the presence of the Kenya Meat Commission.
This state of affairs picked Mbingu to the quick. He left the police and mobilised locals who elected him chair of the committee constituted to fight against colonial oppression including the seizing of over 2,000 heads of cattle.
In 1938, when Sir Robert Brooke Propham was the Governor of Kenya, Mbingu led a massive demonstration with protestors from Ngelani and Koma rock areas trekking 60 kilometres to Nairobi.
They camped at Kariokor (then called Carrier Corps) for a month demanding to see Sir Propham whom Mbingu saluted in jest whenever he passed by.
By the way, Sir Propham, a military officer, was appointed Governor to help fight the Italians who were waging a war in Ethiopia where they were defeated in the Battle of Adowa.
Most Italian Prisoners of War were taken to Nyeri where Italian names such as Emilio, Basillioh and Nemesius are common.
On seeing women breastfeeding young ones in the cold, Mrs Propham asked her hubby to act. Mbingu, a form four leaver from Kabete Technical got his audience and thereafter the cattle were released to their owners.
But his undoing was speaking to the Governor in Kikamba: "Twenda kwikala ta maau mau maitu, tuithye ngombe to Maau mau maitu, nundu nthi ino ni ya maau mau maitu. (We want to live like our grandfathers, keep cattle like our grandfathers, for the land we live on is our grandfathers).
The reference to Maa umau (our grandfathers) got the colonialists assuming he was part of the Mau Mau for which he was detained in Lamu Island for seven years.
When he was released, the colonial government made him one of the informers mostly in tracking down Mau Mau who mostly spoke kikuyu.
It was this collaboration that led to his brutal murder at the height of the State of Emergency in 1953, when Sir Propham also died.
Related Topics