She won the 1995 Commonwealth Writer's Prize for the 'Best First Book in Africa' with 'The River and the Source,' a novel which follows the inter-related lives of four generations of women in pre and post-colonial Kenya.
Margaret Atieno Ogola was not a fulltime writer, but a paediatrician, the medical director of Cottolengo Hospice for HIV/Aids orphans.
But she became a household name for The River and the Source, KCSE set book for many years and which has been translated into Italian, Lithuanian and Spanish.
Of the novel that also won her the 1995 Jomo Kenyatta Prize for Literature, she said: "The inspiration for this book came from my mother who handed down to me the wisdom and lives of her own mother and grandmother. This strength and support that is found in the African family is the most important part of our culture, and should be preserved and nurtured at all costs."
Margaret was born to civil servant parents in Asembo Bay, Nyanza County, where 'The River and the Source' is set to tell the story of Akoko, Nyabera, Awiti and Wandia and their milestones towards female emancipation and skirting discriminative practices, besides addressing issues of social change, family ties and leadership.
Values of hard work, determination, resilience and love of education which were instilled by Margaret's parents emerge strongly in her novel which the poor sleeper wrote mostly at night.
Besides serving as the vice president of Family Life Counselling (Kenya) and as the national executive secretary of the Commission for Health and Family Life of the Kenya Episcopal Conference, Dr Ogola managed to write two novels, 'I Swear by Apollo,' a sequel to 'The River and the Source,' and 'Place of Destiny,' an almost premonition treatise about a woman dying of cancer which won her the second Jomo Kenyatta Prize in 2007.
There was also 'A Gift of Grace,' the biography of Maurice Cardinal Otunga co-authored with Margaret Roche; 'Educating in Human Love,' a parenting guide on children and sex co-written with her hubby, Dr George Ogola with whom she had four children and two foster ones; and 'Mandate of the People,' published posthumously.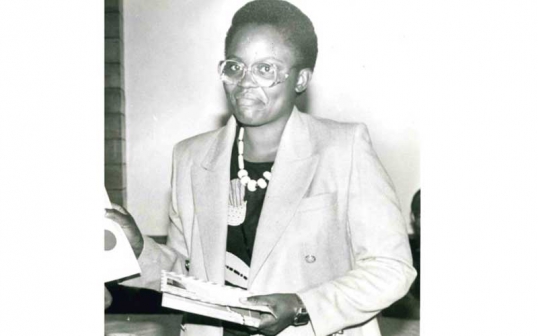 The alumnus of Thompson Falls (where she was the best overall student), Alliance Girls High School and the University of Nairobi, where she earned her bachelor's degree in Medicine in 1984 and her master's in paediatrics in 1990, was a member of the Opus Dei, a Catholic order, and also adviser to the Kenya Catholic Bishops on family and health.
The recipient of the 1999 Familias Award for Humanitarian Service from the World Congress of Families died of cancer on September 21, 2011 at the age of 53.
Related Topics