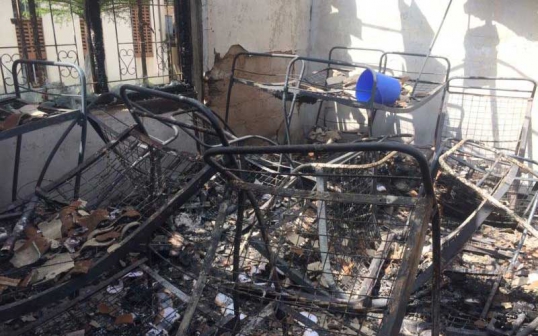 Just because you went to a school where the dormitories were locked doesn't mean we should allow our children's dorms to be locked from the outside
One lady who is an orphan lost her sibling in the Garissa University attack. On Saturday, her small sister died at Moi Girls
On Saturday, my friend, who was held up in a meeting, was shocked to find almost 10 missed calls,all from people who wanted to know if she had heard the news about the Moi Girls High School fire. She had dropped off her only child a few days earlier at the school, two weeks after celebrating her birthday.
She rushed there, only to be met by armed police holding batons at the school gate. Beats me why the official Kenya Police response to any disaster is to send armed police, which is both comical and silly.
Anyway, as my friend and other parents tried to get information on what had transpired and about their children, they kept being stonewalled by the school administration. She decided to visit the hospitals where the injured had been taken but her daughter wasn't there.
In the afternoon, she found out that her daughter was among 15 girls listed as 'missing' while the school had eight unidentified bodies. The school told her to go home at around 6pm and that they would get in touch.
Distraught, she went home. 16 hours after the disaster, she received a call; her daughter was among the eight who had perished. They will have to wait for her body to be identified through DNA.
My friend's daughter didn't deserve to die. We, as a country, not only let her die, but we let our children down. And it isn't the first time. One lady who is an orphan lost her sibling in the Garissa University attack. On Saturday, her small sister died at Moi Girls. My heart bleeds as l write this.
The Moi Girls School fire wasn't the first of its kind and, and given the way we (mis)manage our affairs, it will not be the last. Some of the most memorable, tragic high school fires include Bombolulu Girls (25 girls died) and Kyanguli Secondary (68 dead).
In both incidents, Commissions of Inquires were set up and reports produced, but were their recommendations implemented? Why can't we, as a country, learn from past tragedies and protect our children?
Look, that dormitory was designed to host 80 girls. A few alterations were done and now it houses 300 students. The fire started at 2am (a time when there is zero traffic in Nairobi), but firefighters arrived two hours later and predictably ran out of water.
Our fire brigade responded to one fire incident late and failed to contain it, despite us having a National Disaster Operations Centre that has been manned 24 hours since 1998.
Not that we are blameless. When we drop our children off to schools, we must know with certainty that dormitories, halls and classrooms have fire exits and extinguishers. Safety drills should be conducted periodically. Just because we pay school fees doesn't absolve us from the responsibility of ensuring that the schools we take our kids to are safe.
Just because you went to a school where the dormitories were locked doesn't mean we should allow our children's dorms to be locked from the outside. It wasn't right then, and it isn't right today.
There are certain standards and regulations that we must ensure are upheld and we must hold our institutions accountable as well to ensure the safety of our children.
That is what it means to be a parent.
The writer is an award-winning photojournalist, human rights activist and politician
Related Topics