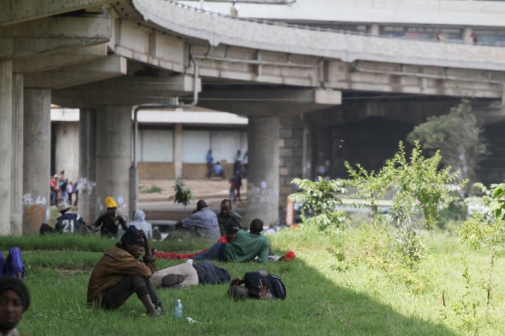 Stories abound of bold street boys attacking people, especially women, snatching their bags and even sexually harassing them.
Police say it is the responsibility of county government to rehabilitate them
The recent upsurge of glue sniffing street children has made walking on certain streets in the city centre a nightmare. It is worse if one is carrying food, a handbag or using a mobile phone. The rowdy youths harass shoppers for money, snatch valuables or pickpocket unsuspecting citizens.
According to city residents who spoke to Metropolitan, the petty criminals who pose as street families have invaded streets in Nairobi, bringing to an end a long spell when people felt safe even in alleys. They have invaded sections of Market Road, Kenyatta Avenue, Kimathi Street and Aga Khan Walk in the CBD, Ralph Bunche Road in Upperhill and Yaya Centre.
"The street boys operate both during the day and at night. Some of these so-called street families are actually gangs of petty thugs," says Dan Sinjay, a resident.
Sinjay, like many other residents, is concerned the city is quickly turning into a haven for muggers who pass off as street families.
Witness
"I was driving along Market Road when I noticed a group of street boys struggling to grab a woman's bag even as she held on to it tightly. I hooted and flashed the headlights scaring them away," says Sinjay.
Sinjay says he witnessed a similar incident last week, along Ralph Bunche road in Upper Hill at 7pm by another group of street boys.
"Some of these boys are so daring that they have moved their operations to upmarket streets like Kenyatta Avenue, Kimathi Street and Aga Khan Walk," says Saul Mabonga, a newspaper vendor near the Co-operative Building.
Lolita Auma, is a victim of the street gangs. They started with gentle requests for handouts.
"The begging is just a formality so they can either study, distract you or disarm you before they make a move," says Auma.
Auma narrates how her box of pizza outside a shop along Kimathi Street disappeared in thin air after a 'small' boy approached her asking for a piece.
"I was holding a box of pizza and was making my way out holding it when a small chokora left his crew to ask for a piece. When I said no, he kept pestering and trailing me before he quickly grabbed the box and vanished," says Auma.
Nairobi leads
According to Consortium of Street Children (CSC), many of these families have been driven to the streets by hardships and broken homes. A majority of the children aged between 11 and 15 come from informal settlements.
Nairobi leads in the number of street children who, over time, have been initiated into petty crime as a way of eking out a living. Crime is also committed among themselves as they bully the younger ones and sexually harass women.
Laban Amwayi, a watchman, says he does not allow street families to pitch camp next to a bank and ATM machines that he guards along Kenyatta Avenue.
"They loiter around here, trying to find a place they can curdle and pretend to be asleep until a possible victim appears. They mostly target women walking alone," says Amwayi.
Amwayi narrates the case of a woman who was walking along Muindi Mbingu Street when a group of three street boys who were roaming around approached her, harassing her under the glaring street lights.
"It was around 9pm and as the woman made to cross the empty road, she was waylaid by a group of three boys who began harassing her sexually. She screamed and we rushed to her rescue. The boys had already dispersed," says Amwayi.
Losing clients
Waithanji Njoroge, who operates a small store behind Jamia mosque, relies on his assistant to keep off street boys.
"My assistant has to stay outside the shop every evening to man this place and ensure the street boys keep off," said Njoroge.
He added: "We were beginning to lose customers who are frequently trailed by beggars who turn violent, haul insults or try to snatch their goods when their demands are not met."
Nairobi Central OCPD Robinson Thuku admits that the number of street children is disturbing but says it is the role of the county government to rehabilitate them.
"Even if we arrest them, where will we take them? We can only come in to help the county government take them to rehabilitation centres if called upon," he says.
The outgoing county government estimated that it required Sh1.2 billion to rehabilitate street families in the capital.
Under the leadership of former Governor Evans Kidero, the county said it had started building a rehabilitation centre on a 42-acre plot in Ruai.
As he took over power last week, Nairobi Governor Mike Sonko promised to rid the streets of the families and rehabilitate them.
Related Topics