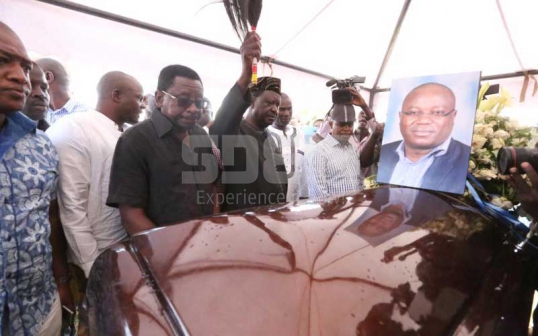 Leaders claim that the IEBC ICT manager was killed because he refused to be a part of a scheme to rig the elections
Family and friends accuse State of laxity in probing the brutal murder
[email protected]
National Super Alliance (NASA) leaders have claimed that former Independent Electoral and Boundaries Commission (IEBC) ICT manager Chris Msando was killed after he refused to surrender a password that was used to rig the presidential elections.
The Alliance's presidential candidate, Raila Odinga and co-principals Moses Wetang'ula and Musalia Mudavadi said investigations into Msando's brutal murder was a waste of time and money because his killers were well known to the state.
At the same time, they said they were expecting a fair hearing and judgement from the Supreme Court, a day after they filed a petition challenging President Uhuru Kenyatta's re-election, which they dismissed as fraudulent and unacceptable.
Speaking at Lifunga village in Siaya County yesterday, during Msando's burial, the leaders expressed optimism that Kenyatta's win will be overturned.
The IEBC ICT manager was tortured and murdered on July 28.
The death has sparked controversy owing to contradictions that are yet to be explained, even as the police investigations seem to have gone cold. The police claim they are holding two suspects.
Raila, Mudavadi and Wetangula claimed that Msando was killed because of his tough stance against plans to rig the elections, adding that the "conspicuous absence of senior government and IEBC officials at the burial is an expression of guilt."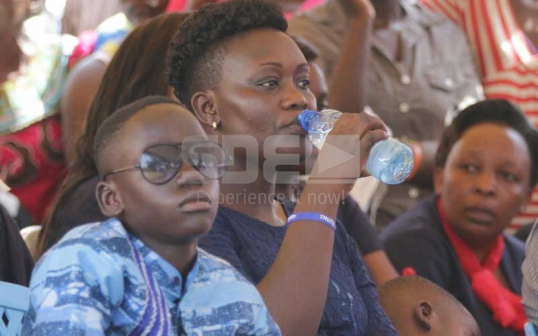 Heartless people
"Msando died a hero. He was killed because he refused to reveal the passwords but his death will not be in vain," Raila said.
The leaders maintained that the killers of the IEBC official are known, including the reasons for his murder, hence there was no need of investigating.
Raila said Msando's death was a replica of the past political assassinations of Pio Gama Pinto, JM Kariuki and Odhiambo Mbai.
"When I first visited the family of the late Msando to condole with them, his young children asked me who killed their father and why. Today, I want to tell them that the who and why of Msando's death is known," Raila said.
The IEBC official's mother, Mary Aloo asked the Jubilee government and the electoral commission to explain the cause of his death.
"I want to know who killed my son and why. If he made any mistake they would have tried him in the court of law and jailed him. And if he stole anything I would have sold my entire property to pay so as to save his life," she said adding that the son's demise has messed her life as he was taking care of her.
Msando's widow, Eve Buyu said: "When Cain killed Abel, God put a mark on his face, and I believe God will put a mark on the face of my husband's killers. It is just a matter of time."
Msando's three children, in their short speeches, asked who killed their father and why.
"Who killed my father? Why? Shame on you," Allan said as he fought back tears. Alvin said: "Today we pray for my father, but I know God is watching."
Mudavadi told mourners the only reward for Msando's life was to keep on the fight to have the 2017 votes count. "Msando died guarding the integrity of our elections and we will not relent in this fight," he said.
Wetang'ula said Msando's death was committed by heartless people who do not care about life.
"I was among the first people who viewed Msando's body at the City Mortuary and I want to say that no human being can brutally murder one like they did to Msando. Msando's murderers are not worth being called human beings," said Wetang'ula.
IEBC Chairman Wafula Chebukati and Chief Executive Officer, Ezra Chiloba skipped the burial. Chris Owiye, the IEBC Manager In charge of Investigations and county election coordinators from various counties represented the commission.
IEBC Director of Research and Development Desma Momayi read the commission's condolence to Msando's family.
"Msando's death has not only left a void in his family, but also in the commission and we will offer necessary support to the family," said Mr Momayi.
A sombre mood engulfed the home as the slain ICT manager's remains were lowered in the grave.
Related Topics