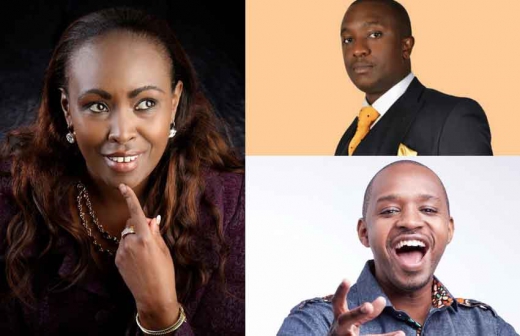 Mutoko wondered how Steve Mbogo, an aspirant for the seat alongside Jaguar topped Boniface Mwangi
She argued that Boniface Mwangi had made his presence in the ground and had the heart for the job
Jaguar won the seat with 61,262 votes
Celebrated media personality Caroline Mutoko is at a loss to explain the manner in which voters in Starehe constituency swayed against popular activist Boniface Mwangi in the parliamentary race.
Through her Facebook page, Mutoko wondered how Steve Mbogo, an aspirant for the seat alongside Jaguar topped Mwangi.
"That Boniface Mwangi lost to Jaguar I can understand, but that Boniface was third to Steve Mbogo, I don't get, I just don't get," She posed.
"So my mind boggles, what is it? Thats all...For me there was no doubt in my mind that it was going to be tight between Boniface and Jaguar. That was never in doubt . What confuses me, is that it was Jaguar, Steve Mbogo and Boniface."
Mutoko added that she had not just thrown her weight behind Boniface but she had also invested in his campaigns.
"I didnt just back Boniface, and he will tell you, I put my money behind him...
"That Boniface Mwangi could lose to Jaguar was a possibility I had dealt with. That he could get less votes than Steve Mbogo, now that is something to ponder.There is a lesson to be learnt here and I'm not sure sure it's for Boniface. It's about us." noted Mutoko.
Jaguar won the seat with 61,262 votes followed by Mbogo with 38,294 votes while Boniface came third with 15,877 votes.
The seat had attracted 8 candidates.
Related Topics