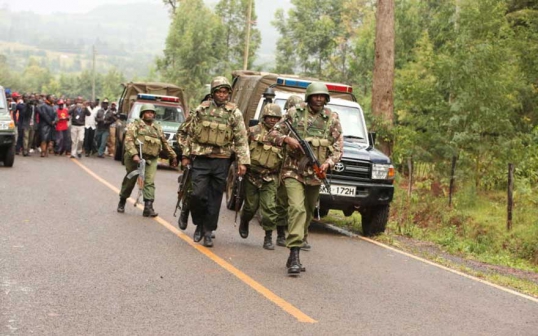 Unknown number of gunmen raided the home yesterday
The elite security forces took charge of the operation as they engaged the attackers in bid to neutralize them
Kenyans show mixed reactions with a majority clearly shaken that the country is not safe including the 2nd most guarded person in the land
In one of the most brazen security breaches in the country's history, the Deputy President William Ruto's Sugoi home in Uasin Gishu County was attacked by armed men and placed under siege for hours.
There were conflicting reports that three attackers were subdued and killed after a six-hour gun-fight, but another source from the DP's office later said an elite paramilitary police was waiting for nightfall to flush out the attackers.
But a statement released by Inspector General Joseph Boinnet at 8.45pm yesterday said a lone man attacked a police officer with a machete before he hid in a building under construction at the gate.
"Specialised forces have been mobilised to deal with the intruder," said Mr Boinnet
The motive of the attack is still unknown but the gunmen, who according to eye witnesses numbered four, gained access into the DP's residence at about 11am about 30 minutes after he had left for a campaign rally in the neighbouring Trans-Nzoia County.
There were conflicting reports on the number of attackers earlier in the day as witnesses said they saw three men but it la ter emerged they were four, before the IG said there was only one gunman.
After learning of the attack, here are some of the reactions that Kenyans shared online:
Kama Dp Ruto's Sugoi home can be attacked and held hostage,,,na je sisi commoners?????????

— Patience Muthama (@MuthamaPatience)
This MACHETE man that attacked DP Ruto's Sugoi home must be a Superman. Fighting the Recce for 5hrs. Ka yuko alive mpe beer nitalipa!

— Madekesiworld (@Madekesiworld)
It cant be a coincidence that DP Ruto's sugoi home gets attacked a day after Raila Odinga reveals how KDF plans to rig the elections.

— Lord Abraham Mutai (@ItsMutai)
Could this be the man who attacked Dp Ruto's Sugoi home? pic.twitter.com/Mk7kSji73A

— ISAIAH THE KENYAN (@Isah_iah)
Raila eats mutura and has stomach complications thats assassination attempt. DP Ruto's Sugoi home is attacked, he's seeking sympathy votes!!

— Mt. Kenya Mafia (@allen_arnold)
DP Ruto's Sugoi home attack is diversion from @RailaOdinga's revelation of planned election rigging schemes! NASA supporters FOCUS!

— Babu Owino™ (@Babu_Owino)
DP Ruto's sugoi home is covered by the prayers of his wife @RachelRuto No weapon formed aganist @WilliamsRuto shall prosper #ElectionsKE

— NIPE MACHO NIONE (@wilson_sossion)
TITLE: #TerrorInSugoi PRODUCED BY: #SugoiFilms DIRECTED BY: DP Ruto's Sugoi CATEGORY: Fiction GENRE: Politics

— Joshua K. Njenga (@JKNjenga)
RECCE SQUAD takes minutes to arrive at a fake attack Dp Ruto's Sugoi Hom while it took hours to save students attacked at GARISSA UNIVERSITY

— John Lusweti (@lusweti_john)
Is the "attack" on an empty DP Ruto's sugoi home the creation of an EMERGENCY SITUATION so as to warrant postponement of the ELECTION? pic.twitter.com/eG7Vat3pOK

— Ike Kenneth (@IkeOjuok)
Related Topics