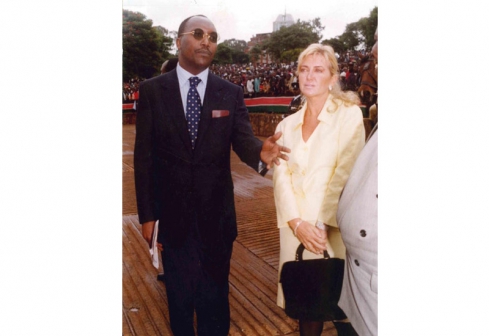 Philip Moi finally got a relief from his estranged wife, Rossana Pluda, after the Court of Appeal overturned a decision that he pays her Sh90 million for upkeep and house allowance.
In the precedent-setting judgment, appellate judges Hannah Okwengu, Daniel Musinga and Gatembu Kairu ruled that it was wrong to punish a man to pay for the maintenance of a woman when both are still capable of working to earn a living.
"No spouse who is capable of getting employed to earn something should be allowed to make the other partner a beast of burden to cater for her maintenance just because their marriage has been dissolved. We find that the High Court judge did not properly exercise his discretion when awarding the amount," ruled the judges.
Gain employment
According to the judges, Ms Pluda had indicated that she is a professional designer who used to make $15,500 (Sh1.5 million) a month. And that although she lost her businesses, she did not demonstrate how she had unsuccessfully tried to gain employment.
High Court judge Luka Kimaru last year ordered Mr Moi to pay Pluda a lumpsum maintenance of Sh30 million and buy her a house in an upmarket area of Nairobi, or in the alternative pay her Sh60 million.
But Mr Moi, in his appeal through senior counsel Tom Ojienda, argued that he was unable to raise the amount and that the judge failed to consider his financial capabilities alongside that of his estranged wife.
"The High Court failed to consider his financial capacity and, without any evidence, concluded that he could afford the amount on pure speculation. Condemning Mr Moi to pay Sh90 million while he is still paying the expenses for his two children in England is vindictive," said Ojienda.
According to the lawyer, Mr Moi is just a victim of his surname, but who in real life is an ordinary Kenyan living on pensions as a retired army officer and relying on his family members for a modest livelihood.
The appellate judges agreed with Prof Ojienda's submissions, ruling that it was wrong for the judge to award the amount without assessing the financial status of both Moi and Pluda.
"We are left wondering how the judge reached the conclusion that he pays Sh30 million maintenance and Sh60 million for the house. He did not bother to check the financial standing of each party, and that is why his decision cannot be allowed to stand," ruled the judges.
Educate children
They added that the judge failed to take into consideration that Moi had agreed to solely educate all their children up to university, despite the fact that all parents, even if separated, have a role in educating their children.
The judges said that whenever a court is faced with application for maintenance, it must order all parties to furnish the court with comprehensive information relating to their financial circumstances, including setting an inquiry if financial capabilities are contested.
They ordered that the dispute be referred back to the High Court within 30 days and each party to file information relating to their means, assets, income, expenditure and liabilities before any decision can be made on maintenance.
Related Topics