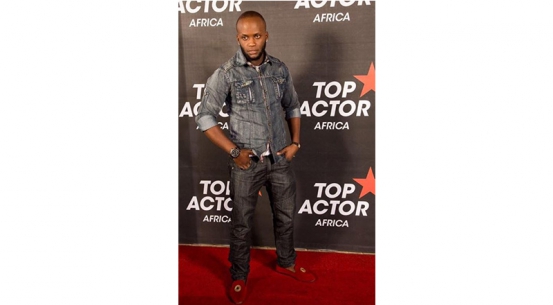 Last year, you had the opportunity to represent Kenya on Season 2 of BET's Top Actor Africa (2016). That is big, right?
My friend Melvin Alusa told me about it and I decided to give it a shot.
The show is the Big Brother version for actors and actresses. I was competing against six South Africans, four Nigerians and one Kenyan lady Lorraine Wangui Gakuo.
It was shot for about three months at different locations in South Africa. It was a career high, not only did BET feature my story as an actor, I also got the chance to work with Hollywood actors like Erica Ash (Real Husbands of Hollywood), Jay Ellis (CSI Miami), and Michael Jai White.
We were trained by film makers from South Africa and the US, and every week someone was eliminated.
The show aired on BET last early last year, and I emerged number two and was voted most popular actor in Africa; not bad for someone who was once told he is a poor actor and fired from a production.
Are you serious? Well, I am sure you came out with a few lessons...
Of course! I learnt it is better to be humble and listen more than I talk; and also, to be very keen in shaping my brand especially for the international market since the dynamics differ from what we do in Kenya.
Do you now feel like a 'celeb' after BET?
Naaa...The show opened doors for me as I am now regarded as one of the top actors in Africa, the title definitely comes with its rewards.
I have done a Kenyan-German movie that will premier in October. The film is based on the Mandera bus attack. I am also involved in an upcoming telenovela directed by Reuben Odanga and produced by MNET.
Then in October, I am starring in a movie that stars singer Avril and Melvin Alusai. I have also received offers from South Africa and BET.
Is acting something you always wanted to do?
Never! I never acted even in school. I was more interested in dance. In 2010, my then girlfriend dumped me, and I was heartbroken. I had just lost my job so you can imagine the pain.
I needed something new to do; I saw a call for auditions in the newspaper and I went for my first audition which was a disaster. I was shaking and scared out of my mind, I did not get the part!
What happened next?
I vowed to perfect my acting skills and started going for auditions, and five months later, I landed a role in a stage production for a set book.
I did a number of performances at different high schools, but unfortunately after four months of working I was fired! I was fired and Jasper Odak the producer at Jicho Four Productions told me that I was simply a poor actor.
How did you recover from that?
It was hard to hear but it only made me pull up my socks. I promised myself that Jasper would definitely see me acting again in another production.
I kept on auditioning and got job at another production house where I worked in theatre from 2010-2012 before taking a break.
Why did you decide to walk away from theatre for a year?
My mother passed on and it hit me very hard, I simply did not have the heart to perform anymore.
After mourning my mother for a year, I met Jackline Lidubwii, a producer from KBC and she gave me a minor role in Angel's Diary (KBC TV series).
It was a great opportunity as it gave me exposure, but it was a minor role and I only shot twice in five months and was pais Sh8,000, which was too little. Fortunately, I landed another main role in Seth and Joel (KBC TV series) which was produced by Faith Koli and a supporting role in Pendo.
Since then, I have also acted in the TV series Majaribu, All of US, a German movie which will premier in October, Mzia Mzia (MNET movie), and I have also featured in a number of advertisements.
Tell us something about yourself?
I was raised by my single mother, and also my grandmother. I have a brother called Clinton. Growing up I remember I wanted to be a scientist, then later a pilot and now I am one of Africa's finest actors.
Away from work, I am very passionate about working out. I work out for three hours, six days in a week. I lift weights from Monday to Friday, and do cardio on Saturday.
As a result, I do not drink as it interferes with one's performance at the gym. I discovered the gym five years ago when my mother died. It helped me heal, and now it is an important part of my life.
Do you have any crazy fan anecdotes?
Ladies are the craziest fans, just the other day a lady stepped up to me and licked me in my ears and told me she loves me (laughs). Also, I get approached by men, it's a crazy world we live in today!
Catch me dead in ....
Safariboots or Caterpillars with the huge soles, I wouldn't even at gunpoint!
Related Topics