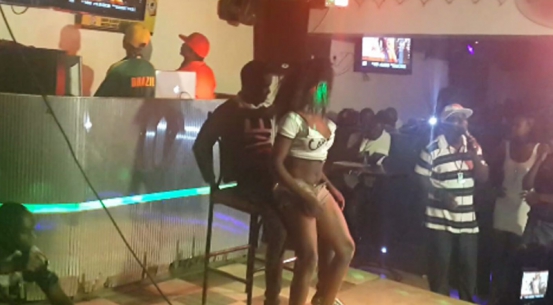 On the day of her interview, Venah got to the Baricho Road club at 6pm just like she had been instructed.
There were about 10 other girls lining up for the club hostess job and one after the other the moved to the interview chamber. That is where the unexpected happened.
"The club manager asked me to remove all my clothes and remain with my panties. I mean, I am walking into this man's office with my credentials and all he is asking is for me to get naked.
He was having whisky on the table and at the back of my mind I thought he was upto no good," she says.
After asking why she had to remove her clothes for an interview, the club manager told her that to be a club hostess, she had to have curves at the right places so as to attract customers and it was his duty to confirm that.
Well, club hostesses are known to enjoy all the good that comes with the lavish night life and luxury living. Most of them drive expensive cars and live in expensive houses but the trying demands that come with the job only the strong can accommodate.
In most times, it all starts with having a large number of followers on social media especially Instagram. You post a picture baring it all and the comments starts coming in. The club representatives slide in your DM and start chatting you up about taking up a job; becoming their club hostess.
"For us, its work by night and sleep by day. First of all, it is so expensive to maintain such heights of life as here, looks are everything. Looking expensive is a part of the play for us. For example, it costs roughly Sh30,000 a week to get good manicures and pedicures, which is a must do for us," remarks Sheila, a club hostess who has been in the job for a year.
"One cannot repeat clothes or shoes. Most of the time one has to wear custom made or designer clothes and shopping has to be done every other week," says Sheila.
"The truth is that everyone wants to sleep with you before you get the job and the biggest problem is getting past the middlemen before reaching the club owner. The middlemen are notorious Casanovas. It's like life in the glamour world where sex carries the day," she notes.
The shy girls who cannot speak out for themselves are the most vulnerable. The manager who is the rich and powerful guy at this level asks you to join him for VIP treatment and where drinks are plenty and free.
Cocktails are only a waiter away and the manager allows you such privileges. You are now living a life many city girls dream of and at this point, you give in to everything.
You start to recognise the showbiz nightlife power. Calls come in at odd hours from the manager and the script remains the same as he maximises his time with you.
More offers are then given and rules are laid out. You have to bring your clique of gorgeous girlfriends to the club with you and brief them what awaits them.
Basically, you are slowly pimping your girls to high end clients who are part of the clique that brings in the big night cash for the club; the big club players to be exact.
"Every week the team expects you to bring in a new crowd of female friends so trading your friends becomes a norm for you to keep your job. On a good night, one makes at least Sh15,000 to Sh40,000 from the club and the tips are close to Sh20,000 or at times Sh30,000 depending on the club," says Cate who is an hostess in a city casino.
"The sex offers knock on all doors and especially form the big boys, politicians and business men who like it when we accompany them for private parties as they will gain more recognition. Your value increases drastically and you become expensive and even offers begin from Sh50,000.
The problem is that this does not last. Your time as a club host is limited," she concludes.
Related Topics