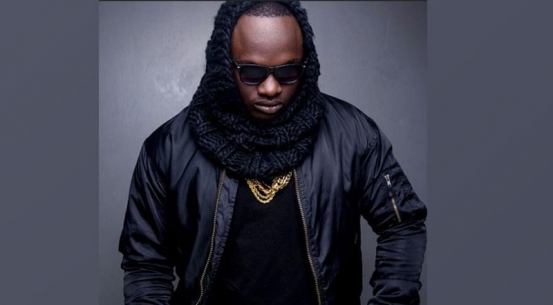 The vibe on Octopizzo No. 8 going hard on Khaligraph Jones had not even settled when in an unprecedented move King Khali hit the studio and released a venomous diss-track, Toa Tint (Mask Off).
"Kama ni ukweli hizi risto naskia ati unajipaka aloevera then congratulations coz you just played yourself. Na kama umecatch feelings katoe diss track coz matime we ukua na kiherehere sana (If it's true those stories am hearing, that you have 'bleached' then congratulations because you just played yourself. And if this irritates you then go record a diss track...)," Octopizzo had jabbed on Tuesday, referring to Khaligraph as "Ndugu Omolo" and adding his voice to the rumour that the Naked rapper is using skin lighteners.
The day did not end. Khaligraph took to the booth and hit back addressing the whole 'tint' issue, even slamming Fally Ipupa.
"Story iko kwa mitandao, ati nakaa kaa Defao, Ati nimetupa mbao, kisura ni rangi ya thao...We keti hapo ukistudy picha, admire the new Khali features, I'am taking selfies so zipande bei for a photo with me sa nalipisha...(News is on the Internet that I look like Defao, that I have lost my mind and I look real brown...You sit there studying my photo, admiring the new Khali features, I'm taking selfies and I'm charging for every photo I take with anyone)," he raps.
In last week's edition, using the same photo Khali has used in the mock song, the rapper declined to say if he is using any skin-lightening enhancements.
"People will always say things when you are a role model, but, I am just pushing music," he told Pulse. "We are asking if you are using skin lighteners," we repeated. "I am just pushing music," he insisted.
Related Topics