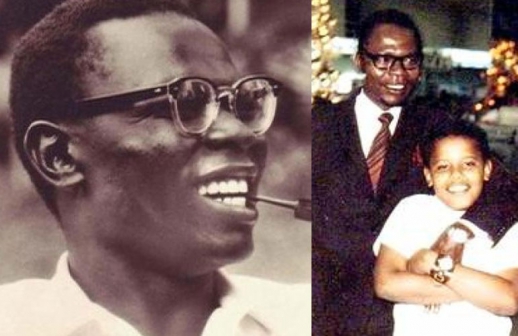 Eleven years before Barack Hussein Obama took office as President of the United States, he forfeited his share of inheritance of his late father's estate.
Former President Obama, who was back in the news last week with reports that he will get $400,000 from Wall Street - the same amount as his yearly salary during his time in the White House - for an upcoming speech at a healthcare conference in September, ceded his stake through a letter in 1997.
In court papers obtained exclusively by The Standard, Obama ought to have received two per cent of the late Barack Obama Snr's lifetime worth. However, he wrote to Kenya's general public trustee on July 2, 1997, indicating he wanted nothing from the estate.
In a letter copied to his half-brother Malik Abongo Obama, he wrote: "Please be informed that as one of the children of the referenced above deceased, Hussein Obama, I hereby forego any and all claims that I might otherwise have on the deceased's estate, whatever the nature of that estate might be."
Obama Snr died on November 26, 1982, leaving his children, and two women who claimed to have been legally married to him, fighting in the corridors of justice.
The succession process was marred by infidelity claims centred around two women - Grace Kezia Aoko and Jael Atieno.
Ms Atieno told the court she was Obama Snr's only legally married wife and that Ms Aoko was never married to the deceased and was therefore not entitled to get anything from him.
Deceased's stepmother
The court also heard from Mama Sarah Obama, the deceased's stepmother.
Sarah had taken care of Obama Snr since he was nine years old, after his biological mother, Asha Akumu Orinda, left his father Hussein Onyango in 1945.
Court papers read that under Luo customs, Sarah and Obama Snr's uncle, Blasto Othiambo, were the only ones who could have conducted the marriage between him and Atieno.
Aoko claimed she married the man in 1957 and never divorced him.
"The objector, Jael Atieno, was not lawfully married to the deceased under Luo customary law or any other law. The deceased's stepmother did not know the objector, or her parents, or the child she claims to have been fathered by the deceased," said Aoko.
In support of the claim, her mother-in-law told the court: "Keziah is the only wife of Barrack Hussein Obama that I know of. I do not know Jael Atieno Obama. My son never informed me that he was married to her. He used to visit me from time to time."
Othiambo also denied Atieno, saying he knew his nephew had "brought home a white woman" and they parted ways around 1973. The white woman he was referring to was Okoth and David Opiyo's mother Ruth Baker, a Jewish-American woman Obama Snr met in Cambridge in June 1964.
Othiambo said he did not know any woman other than Aoko.
According to court documents, President Obama's mother, Ann Dunham, also parted ways with Obama Snr after his split with Baker. She however did not feature much in the case.
At the same time, Malik Obama termed Atieno a liar. He told the court that she had indicated in her passport application, on December 13, 1991, that she was single.
Family intrigues
"It may be true or not true that my co-administrator may have been a mistress of my late father but that does not give her access or right to administer his estate. And her child, George Hussein Onyango, is not a legitimate child of my late father," he said.
In her claim, Atieno told the court that she met the deceased in Nairobi and they moved in together on April 12, 1981. She testified that her parents heard of the affair and came to Nairobi to inquire about it. The court heard that Obama Snr paid Atieno's mother Sh1,000 and promised to pay dowry.
However, according to Atieno, the dowry ceremony never happened as Obama Snr died in a car accident after the meeting.
"Abongo Malik Obama and his mother Grace Keziah Aoko know that I was married to the late and I lived with him as husband and wife," she said.
Obama Snr's biological mother, Asha, also threw in a twist in the case, claiming that Aoko divorced her son in 1964 and allegedly came back when he died.
"The divorce was customary as was the case with their marriage," she claimed, adding that Atieno married her son in 1981 and they lived together for a year.
"The second and third wives (European) also divorced Obama after giving birth and he married a fourth wife, Jael Atieno in 1981," she said.
The case also introduced other intrigues surrounding the Obama family.
On March 11, 1992, Malik - also known as Roy - wrote to his mother from the US claiming he was experiencing hardship.
She went to court two weeks later, asking to have the public trustee ordered to release Sh40,000 so she could send it to her son. She added that her daughter, Auma Obama, who was then in Germany, also needed her assistance.
"I am experiencing acute financial and other hardships here in the US and I urgently require Sh40,000 to enable me to take care of these and other family matters," wrote Malik.
But Atieno was opposed to the court allowing him to receive anything. She told the court that Malik had carted away all her belongings after his father's death and should therefore get nothing from the estate.
"Upon my husband's death, Malik personally came to my house and took away all my household property including: Colour television sets, all the furniture, fridge, cooker, tables, cameras, typewriters, lampshades, electric irons, blankets, bedsheets and all the clothes, including my clothes. As such, he has already take his share of his father's estate," she said.
Financial assistance
Atieno also said Auma had taught at the University of Nairobi between 1988 and 1989 before returning to Germany and thus did not deserve any money.
"The purported need for financial assistance is obviously made up to justify a claim from the estate, which has limited funds (and) which ought to be preserved to help the helpless minor who is still obtaining basic education and his helpless mother, me, who is currently unemployed," Atieno told the court.
In response to these assertions, Malik told the court that his work in the US did not make him enough money to satisfy his living expenses. He complained that he had gone 10 years without receiving a settlement from the court.
"My sister (Auma) is nearly being deported from Germany before completing her course and I am broke and cannot support her anymore," he said.
The Siaya district commissioner at the time had recommended that each of four women's children should get a share of Obama Sn's estate, and that both Aoko and Atieno should receive something as well.
The two women were to get an equal share of five per cent each.
The former's children, Malik and Auma, were to get two per cent each and their younger brothers, Samson Obama and Bernard Obala, were to receive an equal 15 per cent share each.
President Obama was also to get two per cent of the share, an amount that was also replicated to his stepbrothers Mark and David.
Atieno's son, George, was allocated the lion's share of 35 per cent of the estate while Mama Sarah was to get two per cent.
Related Topics