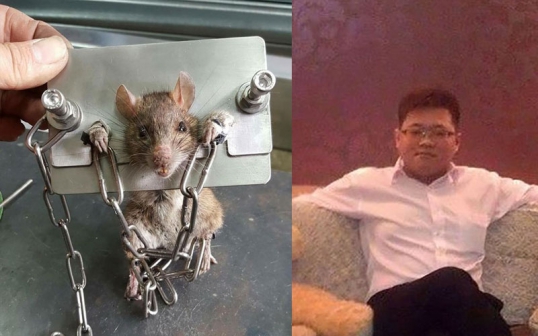 Bizarre pictures have emerged showing a rat shackled in tiny stocks after being caught scurrying around a house in Taiwan.
Lee Wei-chin shared the images on social media showing how he punished the furry intruder.
The surreal snaps prompted quite a reaction with several thousand likes and just as many comments.
The resident of Taichung City in West Taiwan wrote: "I finally caught it!"
Two accompanying photos showed the poor animal with its head and both front legs locked in the stocks - a medieval form of punishment.
Lee somehow managed to find stocks so small that it could lock up the rat's head and arms so it would not get away.
The look of the custom-made metal tool makes it clear just how desperate the homeowner was to nab the pesky rodent.
Netizens on social media have shared the photo more than 1,000 times at the time of writing, but some have also expressed sympathy towards the creature.
"Kill it or let it go," one social media user wrote.
Lee said he released the rat later the same day.
But he did not say how he got his hands on the miniature rodent stocks.
Related Topics