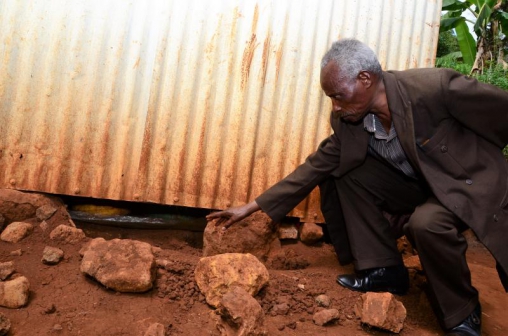 A couple's blossoming relationship came to a tragic end when they were murdered in the man's house at Kagumo-ini village in Mathioya, Murang'a County.
Joseph Munyiri and Jane Wambui had just shared a meal of chapati and retired to bed when a gang, armed with crude weapons, broke into their home on Friday night and bludgeoned them to death.
Wambui, 35, was killed from the impact of a blunt object to the back of her neck. Munyiri was found, barely conscious, as his life slowly ebbed away. He had stab wounds all over his body, and his eyes had been gouged out. Acid had been poured on both their bodies.
A day later, Munyiri's estranged wife, Julia Nyambura, and his eldest son, Humphrey Mwangi, were arrested in connection with the murder. Family and friends of the deceased said Nyambura and her son could have had a hand in the murders.
Before their fallout two years ago, Munyiri, 58, and Nyambura had been married for 32 years and had eight children together.
Neighbours said Nyambura was unhappy with Munyiri's decision to take a younger wife and had, on numerous occasions, threatened the couple that their union would come to an unfortunate end.
"She was angry that the new wife was now living in her house, and called Munyiri to complain about it on several occasions. Each time she threatened him and asked them to dig two graves. She threatened to burn them together with the house," Munyiri's sister-in-law Mary Wangeci said.
Munyiri and his lover lived in a three roomed tin house on a one-acre plot he inherited from his father. The land was divided between him and his two brothers.
He worked as a night guard in Nairobi before venturing in subsistence farming. His shocking death is, however, not the first in the family.
Wangeci was widowed when a gang attacked a local school where her husband worked as a night guard.
Blood is spattered on the walls and furniture. Acid has also corroded some sections of the bedroom wall and blood soaked bedding are still lying on the floor after the gruesome murders.
The remainder of the couple's chapati meal and dirty plates are still on the table, untouched.
There are signs that people forced their way into the house. Sections of the walls near the door have been torn apart and another section has been dug up to provide an entry point into the house.
MOBILE PHONE
Other than his missing mobile phone, nothing else was stolen from Munyiri, who, together with his lover, the family believes was a victim of hit men.
"We heard screams on Friday around midnight but we had been locked inside our houses to prevent any chance of rescue," Wangeci said.
At the back of the house, a noose was tied to one of the wooden beams supporting the roof.
That and the anonymous report by presumably one of the attackers to police at Kiriaini Police Station that a farmer had killed his lover and himself led villagers to a conclusion that the whole murder was planned.
"I think they planned to kill his girlfriend then hang him so it could be assumed he killed her then committed suicide," James Muraya said.
Muraya said their plan might have fallen apart when they encountered unforeseen resistance from Munyiri.
While Wambui's body was discovered sprawled across the bed as if she was trying to hide under the bed, Munyiri's was sprawled on top of her with stab wounds all over his body. He succumbed to the injuries at Kiriani Mission Hospital.
Nyambura was arrested at Mirangui in Nyandarua County on Sunday and her son, Mwangi, hours later at Kagumoini as he mourned with the rest of the family.
Kiriaini OCPD Charles Mutua said they have information that could implicate her in the murder but needed more concrete evidence. The suspects were arraigned but did not take plea. Detectives asked for more time to complete their investigations.
Related Topics