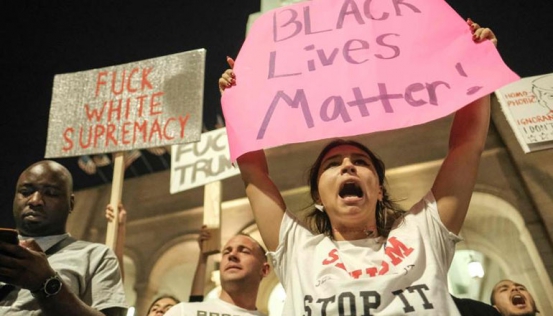 You will soon be able to fly directly from Kenya to the land of President Donald Trump, following the recent upgrading of the Jomo Kenyatta International Airport to Category One status by the US Federal Aviation Administration (FAA).
But US is the country where Trump pledged to fulfil his pre-election promise to deport illegal immigrants. There are about 130,000 Kenyans living and working in the US, with another 30,000 staying there illegally, according to George Mucee, a practice leader of Fragomen Kenya, an immigration consultancy in America.
Mucee told The Nairobian that the number of Kenyans living there could be higher and "it would be three times more than that (30,000)," but it's difficult getting an exact figure due to their illegal nature of stay.
In February, Trump directed his administration to find, arrest and deport illegal immigrants. The broad scope of the president's ambitions include publicising crimes by undocumented immigrants, stripping them of privacy protection, erecting new detention facilities, discouraging asylum seekers and speeding up deportations.
The threat of deportation has had repercussions, including Kenyans putting a brake on the money they remit to relatives back home, as well as missing out on family functions like burials, weddings, bride price negotiations and reunions.
Kenyans in the USA have even created WhatsApp groups alerting members on the progress of the deportation scare, which is now in court awaiting a verdict.
Kenyans who migrated to the US on Green Card lotteries have not been spared either, as most had not applied for citizenship — which is done five years after being granted the Green Card.
Jewel Ciku, a Green Card holder, went to the US in 2007, and while she enjoyed all rights as a citizen, things have changed since Trump came to power.
"I was planning to come to Kenya for Easter, but I have changed my mind after two brothers were refused entry after foreign visits, yet they're Green Card holders. Authorities are now holding people at airports as they verify whether they supported Trump from their Facebook timelimes," explains Ciku, a registered nurse in Texas.
Ciku told The Nairobian via a WhatsApp interview that her daughter was born in the US and is a citizen — which means if she came to Kenya for a visit, she might be allowed re-entry — but in her case, the mother, she might be detained and deported as authorities are dealing on a 'case per case basis.'
Ciku fears that if things remain as they are, there will be discrimination — which has seen foreigners being profiled and asked to produce IDs to verify their status by police. This, she says, was not the case before Trump became the leader of the free world.
This state of affairs has seen the children of the late Jane Marimbet follow her funeral on Skype from America. The three - two boys and a daughter - have lived separately (in Maryland Texas and Dallas) for the last decade and although they're not there illegally or involved in shady deals, skipped the funeral.
John Nguyai, their uncle, told The Nairobian that, "One of them is a professor, and the other one owns a truck rental business, while the daughter is a teacher."
Another Kenyan, Careen Chemutai, has been under a self-imposed house arrest. The 33-year-old went to the US on a visitor's visa, but decided to stay after getting a temporary job in New York.
Since Trump won, Careen has been depending on her parents to send her money for her upkeep since the beginning of 2017 and, "things are thick because I live in a neighbourhood that's not so friendly to immigrants. I will just lie low till things are back to normal. I won't be shocked if I get deported, but I'm praying for the best."
Careen told The Nairobian that she's planning to marry a foreigner for convenience as a way of acquiring citizenship.
"It's not just Kenyans who are in trouble, even people from Eastern Europe have panicked, despite president Trumps wife Melania being from that part of the world. Girls who are my age and come from Eastern Europe are now hunting for husbands who are citizens. Marriage ceremonies are endless since he was sworn in," Careen shared.
The stand on immigrants could mean the end of the road for thousands from humble backgrounds hoping to study in the US under government scholarships, which Trump swore to eliminate after taking office.
Another Kenyan, Jane Onyango, says she is very scared for her family because her husband, a truck driver for two years in Dallas, is likely to be deported.
"I'm afraid they will just arrest him by the roadside, drive him straight to the airport and put him on a plane straight home," Jane, a housewife, disclosed. She added that her hubby went to America through his employer, an American.
Another Kenyan who sought anonymity said she has always been prepared for an emergency exit from the US.
"When I'm broke, I keep a credit card which has at least Sh20,000 that can parachute me once I get to Kenya. I think most of us Kenyans never really talk about the ugly side of the US. This country can be so evil."
She says that even if Hillary Clinton had won, things would not have been any better for Kenyans and other immigrants since "had Hillary won, the far right would have seized the chance to revenge. While people were planning to leave if Trump won, I was planning to leave if Hillary won. If you don't believe me, just Google 'Oath Keeper' and see where the militia was training.
Hillary's win would have put blacks and many immigrants on the spot. Trump is just being honest, this country is full of hate. I'm not shocked, that's why I have had my exit plan for a while."
Then there are professional Kenyans who have overstayed their working visas and who now fear being fired by company executives who fear going to jail for harbouring illegal immigrants.
Some Kenyans however are not scared of deportation. One such is Leah Wangari, who declined an opportunity to become a US citizen in 2003,
"I wanted to invest in Kenya and start a business. I still had my Kenyan ID and there was no way I could do that with an American passport," she explains, adding that she did not apply for citizenship because she could not raise the Sh300,000 bond.
There are many like her who "choose not to be citizens even after 20 years. They just want to make their money and retire back home as millionaires."
Related Topics