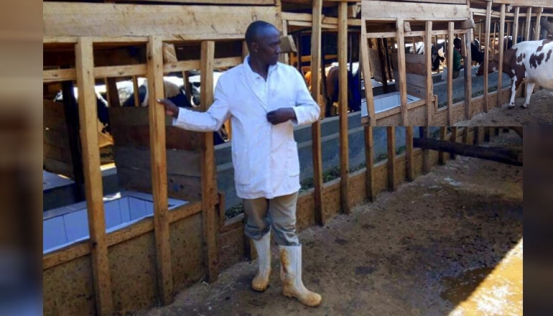 OLX, the online marketplace application, was popular with buyers looking for phones, rental apartments, furniture, spares and cars.
Then it opened a whole new world for farmers and the life of Apollo Kimani from Githunguri in Kiambu County has never been the same.
Githunguri - the rural district with intersecting streams and forests produces more milk per square kilometre than any other place in Kenya, according to renowned economist David Ndii.
Kimani's business gravitates around what the place is famed for: dairy cows.
Kimani's grade heifers go for anything between Sh150,000 and Sh200,000. He chose the OLX platform to market his cows because of its wide reach, both locally and internationally.
He also supplies 350 litres of milk to Githunguri Co-operative Society, the producers of Fresha dairy products. Kimani farm, which is a few kilometres from Githunguri town, has 25 Friesans and Ushers on an eighth-acre piece of land he bought for Sh5 million.
"My mother gave me two heifers when I was 20 years-old," he said, adding that he decided to build a cowshed in the village because he had seen dairy farming as an opportunity to revamp his life and build financial freedom.
After adding two more cows Kimani realised he had found full-time employment.
Kimani told The Nairobian that he sells around 12 Friesans through OLX at Sh140,000 every two to three months. But the prices vary. A pregnant heifer goes for Sh200,000. Kimani says his latest sales were to buyers in Tanzania and Somalia.
"I decided to try this new strategy of advertising my dairy animals because I can reach out to many customers. I sell animals in Somalia, Tanzania, Uganda, and other countries. I always do a follow up to find out if my customers are satisfied," Kimani told The Nairobian.
The farmer who once worked at a grocery store in Nairobi's Githurai area says he believes that, "when you sell something good, customers will always come back to you or refer someone else."
"I started investing slowly from the little money I got from Githunguri Dairy Co-operative Society after selling milk and today my dairy farming business has grown tremendously. I have also invested in poultry farming which has become profitable."
Kimani adds that, "sometimes I also receive complaints from my customers when their expectations are not met,that's why I recommend that they bring veterinaries to inspect the animals sold."
Related Topics