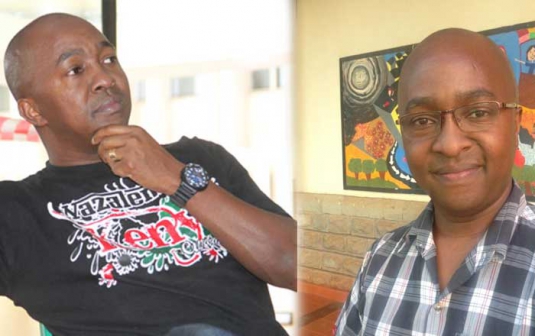 How exactly did Heartstrings came to be?
Heartstrings was founded in 2007 and was formerly known as Heartstrings Kenya.
It was originally registered as a group, but in 2008, I decided to register it as a company and changed the name to Heartstrings Entertainment to fit with the vision I had for it.
Word on the street is that both Victor Ber and Ken Waudo were part of Heartstrings, but you had a falling out. What caused it?
There was no fallout. I have had many actors and actresses pass through Heartstrings Entertainment over the years and after they have used the platform we provide to nurture their talents and get exposure, they move on to other things.
So, they were never co-owners of Heartstrings Entertainment?
No. They were not.
Heartstrings Entertainment has survived for 10 years, something that is very difficult to accomplish in the Kenyan theatre scene. What is your secret?
You have to be professional. If you want to make an industry out of theatre, then like any other industry - whether media, production or even oil - you have to be professional for it to grow.
How would you describe yourself?
I am an opinion shaper, a man who believes that theatre is and will be defined and described by what he thinks and does; a man who believes that he is the solution and the silver bullet that theatre needs.
How old were you when you recognised that you were gifted in theatre production?
I was in Form One at Pumwani Secondary School when I got into theatre while in France. I loved every moment of it, so much so that I later became a three-time winner - Best Actor in French Drama Festivals. So, I continued with public theatre when I finished Form Four.
What inspired you to begin?
I began Heartstrings back in 2007. I originally worked at a tour company for about a year, and after tarmacking for another year while doing theatre as a hobby, I had my aha! moment.
I got tired and asked myself why I was struggling to get a nine-to-five job instead of turning my hobby and passion into a paying job.
I had to come up with an outfit that would accommodate the professionalism I wanted. I created a home for artists who needed to exercise their craft. A good number have passed through Heartstrings, both known and upcoming.
My vision was to place theatre in the middle of entertainment industry by making it a business. I am glad that is going on so well.
How much does it cost to stage one of your plays?
Heartstrings has grown to the point where we do a new production every month for seven days, about 12 shows in a month.
Each play costs me about Sh600,000.
Are you able to break even?
Yes, otherwise we would not be producing a play every month for seven days or even be able to pay the cast.
However, it comes with many challenges, the main one being funding. It is difficult to get investors who can help the industry.
There are those who believe that theatre in Kenya is dead, that there is no professionalism or capability for big-budget productions like the Mo Faya Musical. What is your opinion on that?
That's misleading. We are a professional group and budgets are not a big deal. Plays are very expensive to stage and that has not changed.
Plays still cost a lot to put together. Theatre has no model and so, it is erroneous to imagine that all plays must fit into one kind of model.
You not only write, but also direct and produce your plays. What do you enjoy most?
Directing is my favorite. I enjoy acting too, but my position in the group limits my participation in acting, as my task is to be an overall head.
Directing allows me to be more flexible in doing other things, like generating scripts, producing, marketing and PR.
How would you describe the plays that you produce?
Our shows are definitely game-changers, opinion shapers and industry movers. We have taken on the responsibility to be mouthpieces for what is happening in Kenya.
As a result, our shows have been a hit because we tell stories that every Kenyan can relate to.
Who are your role models in the industry?
A French actor/director called Guy Lenoir with whom I worked as co-director and translator in a play that was supported by Alliance Française, and Patrick Quarcoo, the Radio Africa Group CEO.
What do you love about what you do?
I love the fact that I get to do what I love, and that I am the best at it; that I have made a job out of a hobby.
Did you go to school to learn what you do or is it self-taught?
After high school, I attended Universal College where I studied for a diploma in tourism, followed by another diploma in graphic art and design at Kenya Polytechnic. I later studied French at Alliance Française.
Kenya does not have theatre schools. What I know is self-taught and through countless workshops and short courses outside the country.
I have had to read a lot, research widely to attain international standards. I have had to do personal bench-marking in Tanzania, Cameroon and Broadway in America, just to mention a few.
Where do you see yourself in the next 10 years?
I will have opened a theatre school. This is because we need to raise a group of artists that is trained in the craft in all aspects: acting, directing, stage-management, lighting, stage design, movement, improvisation, costuming and costume design, make-up, body, voice, scripting, publicity, marketing... the list goes on.
If Kenyan theatre is to compete with industries like Broadway, then a school is necessary. I also will own a performance space of my own.
Related Topics