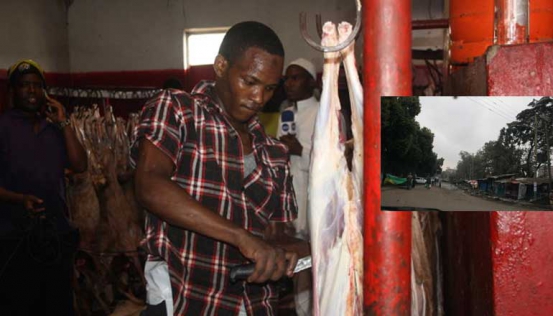 This year, despite the economic hardships that precede election years, saw Kenyans trooping to Kiamaiko market in Nairobi's Eastlands for goat meat that is roasted to mark the just-concluded festive season.
Indeed, Kiamaiko meat market is one of the three places that provide a steady supply of goat meat to city dwellers, besides Njiru and Dagoretti slaughter houses.
And while there are times when there is a shortage of essential commodities, including unga, sugar, paraffin and petrol, there is rarely a shortage of meat in Nairobi. Same as beer.
The bulk of the meat at Kiamaiko is sourced from northern Kenya, where pastoral communities contribute about five per cent to our economy, despite decades of marginalisation, including in education.
It's surprising that here, kids in the former arid Northern Frontier District are taught about tea and coffee farming in Central Kenya, yet all they know is ng'ombe, as American journalist Blaine Harden notes in, Africa: Dispatches from a Fragile Continent, that was published in 1991.
But did you know security operations in northern Kenya created the Kiamaiko meat market? Well, it so happened that many Somalis, Boranas and Gabbras were displaced during the Shifta War in which Kenyan Somalis were clamouring for self-determination via having Northern Kenya hived off to form part of the larger Somalia in 1963.
But President Kenyatta I, having seen Kenya attain her independence that year, would have none of that nonsense and as the Commander-in-Chief, dispatched the army in a security operation that created a State of Emergency lasting 28 years, despite Kenyan Somalis renouncing their stand in 1967!
The State of Emergency went hand in hand with gross violation of human rights as emergency laws translated to searching without warrants, arbitrary arrests and detention without trial, besides special courts imposing the death sentence over possession of firearms, as Ben Rawlence informs us in, Bring Your Gun Or You'll Die, published in the 2009 Human Rights Watch newsletter.
The communities displaced during the Shifta War were settled by the government in what is today Kiamaiko area of Huruma.
The Wagalla Massacre visited upon Wajir by our military forces in 1984, coupled with the fall of Somali President Siad Barre in 1991, only created more internal and external refugees of Somali descent.
Most relocated to Eastleigh, leaving the Borana and the Gabbra in Kiamaiko. They have thrived there since on what they know best - livestock trade, and source of goat (roast) meat which alongside booze, is a national pastime.
And while meat buyers can leave car windows down during the day, Kiamaiko is one major 'gun market' and pretty dangerous come nightfall!
Related Topics