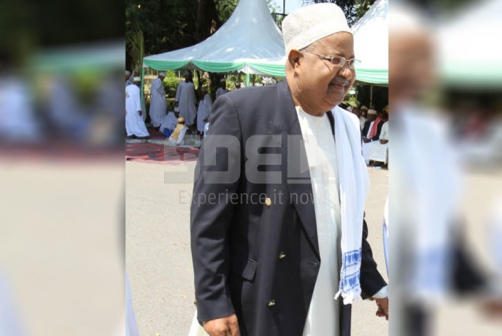 Tahir Sheikh Said, famously known as TSS, is dead.
The Mombasa-based tycoon died in a South Africa hospital yesterday and left a deeply divided family in turmoil.
He died a heart-broken man as he watched his children go after each other trying to claw parts of an empire he built.
In the wake of his failing health, TSS slowly slipped out of the limelight.
TSS was born in Moyale in 1942 but settled in Lamu in the 1960s, and became a dominant figure within the religious circles.
At the height of his fame in the 1990s, TSS and other tycoons controlled the region's politics, deciding who got elected by financing favourite candidates and blocking their opponents.
Little is known about the polygamist's early life and schooling.
An enduring symbol of his foray into the religious sphere is the imposing Sheikh Noorein Mosque in Mombasa, which he built with his own funds, besides contributing to other charities.
Confirming the death, his elder son, Mohamed, said his father died yesterday morning while undergoing treatment.
Mr Mohamed, who was accompanied by his younger brother and veteran golfer, Said, told the media at the family's Kizingo home that his father was flown to Milpark Hospital in South Africa for treatment two weeks ago.
Burial ceremony
Family members disclosed that the businessman will be buried today at the Sarigoi Muslim Cemetery in Mombasa after Al Asr prayers. His body was to be airlifted to Mombasa from Johannesburg via Nairobi last night.
Milpark Hospital is a private facility in Western Parktown, Johannesburg, and is owned by Netcare Ltd. Milpark has a level 1 accredited trauma unit, cardiology and cardio-thoracic services.
TSS will be remembered as having served as Lamu Kanu branch chairman until 2002 when retired President Daniel Arap Moi retired from active politics.
His empire spans various sectors here and abroad, among them hides and skins, transport (lorries and buses), real estate, food processing (flour mills, soda) and coffee and tea export. His signature property is the 14-floor TSS Towers in Mombasa County.
His long-time friend, Sheikh Bahasan, an Islamic religious lecturer, described TSS as a highly religious man who went out of his way to fund religious activities and projects in and around Coast region.
"He was instrumental in putting up mosques, madrassas, orphanages and sinking boreholes at the Coast," said Mr Bahasan, who worked as head of Sheikh Nurein Mosque, one of the biggest mosques in Mombasa with a capacity of over 1,500 worshippers.
But like most great men of influence of his time, TSS's fortunes began to dwindle as his generation of tycoons and power brokers were overtaken by new players, including their own protégés.
During the Kibaki administration, TSS disappeared from public view, only appearing occasionally during religious and political functions.
But TSS's fortunes nosedived further under the Jubilee administration. His children began to feud over his wealth as his business empire across many nations crumbled.
In 2014, the State seized his vast land holdings in Lamu and went after his other properties as banks came calling to recover loans.
A few months ago, his TSS Towers in the heart of Mombasa was in jeopardy when the county government threatened to seize it over unpaid rates running into millions of shillings.
Yesterday, the family displayed unity in his death. Two of the sons, Sabir and Sheikh Noorein, have been fighting for control of the transport segment of two firms, Transmara Logistics Ltd and TSS Pop In Service Stations, in which their father is the main shareholder.
Bad debts
According to a 2014 Wealth in Kenya report, TSS was listed as one of the largest land owners in the country. However, in the recent past, he was in the limelight for incurring bad debts running into billions of shillings.
Kenya's biggest bank by capitalisation, Kenya Commercial Bank (KCB), last year took over a milling company owned by TSS after it cited his default on a Sh1 billion loan.
In May last year, the bank, which had in excess of Sh1 billion non-performing loans with TSS Unga Millers, issued a notice indicating that it had taken over management of the miller. TSS had defaulted on loans in excess of Sh2.7 billion associated with the miller.
The businessman is said to have Sh8 billion in total non-performing loans with a number of banks, booked under other subsidiaries in his business empire.
His misfortunes worsened when the Jubilee government cancelled title deeds to large tracts of land in Lamu, which he had used to secure loans in excess of Sh5 billion from two listed banks.
The businessman is also said to have defaulted on at least Sh1.4 billion with two other banks. Last October, Mr Sabir moved to court to challenge an order issued by Mombasa High Court Judge Njoki Mwangi to transfer vehicles to his younger brother.
The brother, Noorein, a director of Transmara Logistics Ltd, also moved to court and successfully obtained orders that Sabir releases three 30,000 litre fuel tankers and two trailers.
In another case, the High Court ordered Sabir to give Mr Noorein part of the fleet he had taken over. Sabir applied for court orders for an audit of how 15 trucks claimed by both ended up with his brother.
But in a counter suit, Sabir accused Noorein and his sister, Fatma, of conspiracy to fraudulently transfer the said vehicles to Noorein's firm.
Related Topics