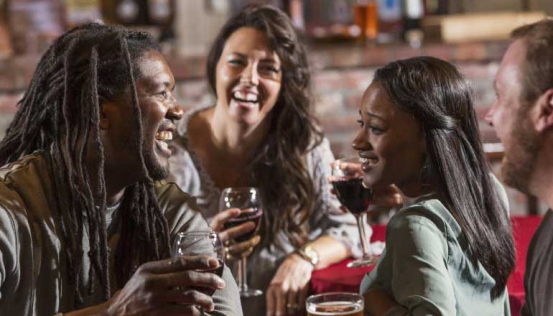 This 'Festive Season' in Kenya is a time of many things. Among other joys, it's a time of parties and celebrations, with workmates, family or complete strangers.
The expatriate is a calm, rather dull type who prefers the company of a couple of people he knows, a warm glass of mulled wine and a book about snowmen.
His Kenyan colleagues, however, might insist that he instead 'comes out with us'. He doesn't want to, but often obliges, just to appear sociable.
One thing that the expatriate notices is how, in the last few years, Kenyan lifestyle articles have frequently moaned about how the Kenyan man grooms himself, and indeed countless such articles have provided advice to the Kenyan gentleman on how to dress, preen and present himself in public.
In fact, no such manners exist, and it's culturally inappropriate to tell the Kenyan man to appear like a 19th century Frenchman. In fact, this British expatriate feels, it's inappropriate for even Frenchmen to appear like Frenchmen, but that's a different story.
And so, when the time to 'go out' arrives, the expatriate leaves his Karen mansion dressed in a shambling beige outfit with dusty shoes, unkempt hair and a slight stubble suggesting he's not particularly bothered about the superficialities of style.
His Kenyan colleagues, however, having been indoctrinated by the social-climbing columnists of Kenyan Gent Magazine, or some such other pointless publication, will leave their Buru-Buru bedsits dressed like the Dandy Duke of Dandora.
His purple suit will be 'perfectly tailored' (this is Kenyan slang for 'one size too small'), his shoes will be pointy-and-patented, his hair will be 'Styled by Silas', his fingers will be manicured to the last skin molecule and his face will be shaven, moisturised, after-shaved and matte-powdered.
He will ring the expatriate's doorbell and, when it's opened, will stand back for effect, inviting comments.
Fortunately, the expatriate is too polite to give honest comments in such situations, and instead simply says, 'Very smart. Where are we going?' The answer is somewhere appallingly chic of the sort the expatriate loathes.
Yet, like an obedient fool, he drives his colleague to the venue and sits the whole evening out, reading classical literature on his tablet while his dapper colleagues party. He of course wishes he were elsewhere entirely.
Being EuroAmerican, this 'elsewhere' might be the UK or the States, where Christmas is a time of gloriously cold weather, snug wood-clad pubs and hiding from glitz and glam.
The expatriate has never truly 'groomed' himself since arriving in Kenya. Christmas is a time to perhaps reflect on why. Is it because he's lazy, or he's susceptible to being swayed by Western media images of an always-bush-Afrika.
Does he believe that his Kenyan friend is swayed by Kenyan Lifestyle images of Western style-and-show? It's not clear. And does it really matter? You better just have another drink.
Related Topics