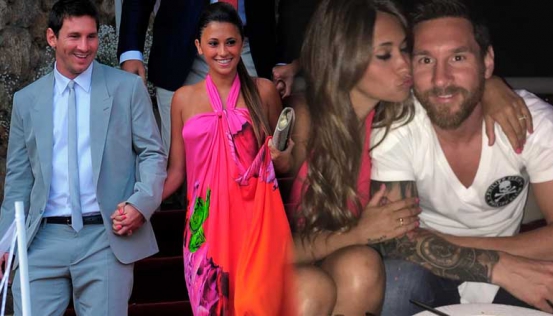 Barcelona star Lionel Messi is set to marry his childhood sweetheart Antonella Roccuzzo next summer.
The wedding is expected to take place in their native city of Rosario in Argentina where they met as children through Lucas Scaglia, Antonella's footballer cousin and a close friend of Messi.
Local journalist Juan Pablo Varsky broke the news on Wednesday on a radio programme.
City newspaper La Capital said it had confirmed the union with a relative of the footballer's who told them: "It's true, there'll be a wedding the middle of next year."
Leo's birthday of June 24 is already being talked about as the most likely date.
Messi is expected to return to Rosario around June 12 next year after completing a tour with his club.
The entire Barcelona squad is expected to be invited to the wedding along with some ex-players and most of Argentina's national squad.
The city cathedral is being touted as a possible venue for the wedding with the subsequent party expected to take place at the Messi family home in Arroyo Seco near Rosario overlooking the Parana River.
There has been no official confirmation yet from Antonella and Leo, who started dating in 2008 and have two children Thiago, 4, and Mateo, one.
The 29-year-old footballer, one year older than his long-term partner, first met supermarket owner's daughter Antonella when he was nine.
He used to write love letters to her as a teenager but they didn't formalise their relationship until he was 21.
They didn't confirm they were dating until 2010 when Antonella travelled to Barcelona for the first time and moved in with her boyfriend.
They became inseparable after the death of a friend of Antonella's in a road traffic accident shortly before she left Rosario for a new life in Spain.
Related Topics