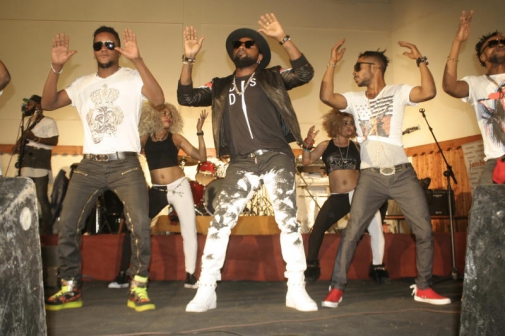 He has undying love for Kenya. Describing it as one of his favourite destinations in Africa owing to its beautiful sights, rich history, friendly nature and its immense love in particular when it comes to Lingala music- he says this has always made him consider them as part of his family besides feeling at home.
The only musician in DRC who is capable of singing sing nearly all voices of Congolese musicians perfectly well (dead or alive) he strongly believes that he is a legend in the making and a captain who leads the new youthful generation of Congolese rumba safely.
He is a loner who grew up not having any friends around him. This forced him to keep to himself most times and owing to his shy nature he prefers to express himself through his music.
He was mentored by Top Congolese musician Werrason Ngiama Makanda. But after a few years quit alongside many other talented musician and did a dis albumLe Marqui directed to him. And again not long ago he did another new dance'' Dad'' Mukolo ameli whistle a reply to Werrason- meaning (The old man swallowed his whistle) which did not go down well with the audience and was booed during one of his concerts in Martyrs Stadium in DRC.
He loves women very much and openly admits that he has fathered several children. When asked if at all he has 17 children with different women as often claimed at the age of 39, he simply responds that he is papa ya bana ebele- ( a Lingala word meaning - a father of many children).
Unlike his peers Ferre Gola's secret lies in his melodies. He reveals that he uses a lot in his guitar rumba besides trying to modernize his music by coloring it with R & B in order to appeal to a wider audience who do not understand the language.
His favourite drink is Brandy which he occasionally takes when not singing nor excercising. His best meal is beans, rice, boiled goat meat and fish. "I drink four litres of water each day to keep healthy."
In 1997 as a member of the Original Wenge Musica 4 X 4 band, he did not know a single English word I could not even say 'hi'. So, he decided to take evening classes in Paris. Today he can speak a tinge of English though.
Contrary to the belief that he is illuminati having coined himself the name Shetani- Ferre explains that it was a nickname given to him by a section of his fans owing to his ability to sing well.
During the initial stages of his music walked seven kilometers to catch a glimpse of performance by some of his role models including Pepe Kalle.
Related Topics