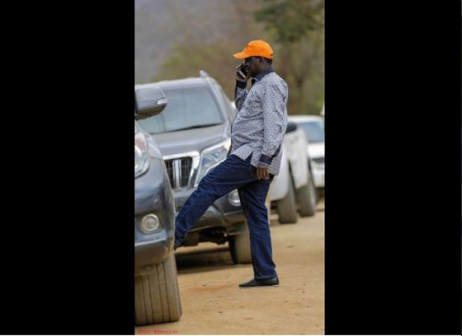 Remember the infamous Museveni challenge? There is a new challenge in town inspired by none other than baba himself Raila Odinga.
Kenyans have taken Raila's photo and turned it into a challenge. Raila was photographed in the Coast taking a phone call while resting his foot on a vehicle tyre.
Naturally the very creative Kenyans have come up with their own versions of the Baba Challenge.
Guys have you tried #BabaChallenge? @BatranAbdi @qamarqueen @ImitiazImran pic.twitter.com/MUhj3p9YoR

— Da'Hijaby Queen (@ImitiazImran) September 22, 2016
Now there's a pose for #BabaChallenge pic.twitter.com/Jy1RftXQ52

— Fredrick Kirui (@twirax) September 22, 2016
Trying to establish what #babachallenge is all about. pic.twitter.com/ydk6wP7dkM

— Saddique Shaban (@SaddiqueShaban) September 22, 2016
#BabaChallenge winner hands down! pic.twitter.com/LWm3fyZdyy

— kettah (@kettah) September 22, 2016
As @Fchurii joins #BabaChallenge ???????? pic.twitter.com/dnLXwliMRS

— Mac Otani (@MacOtani) September 22, 2016
#BabaChallenge pic.twitter.com/lQy9grYpGx

— Mac Otani (@MacOtani) September 21, 2016
This one though?????? #BabaChallenge @MacOtani pic.twitter.com/fbSjWGNzpJ

— Dikembe (@Disembe) September 21, 2016
Related Topics