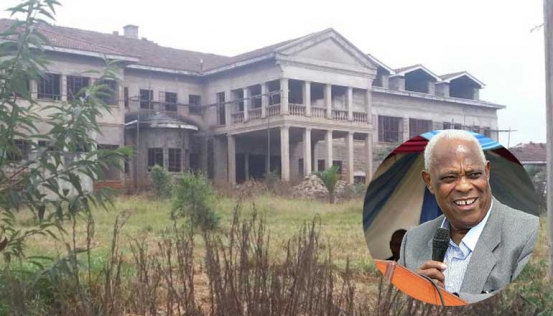 The imposing home in Ruiru, it is often said, was built as a sort of 'State House' in Central Kenya for former Kiamba Mp Stanley Githunguri.
The palatial home nestled 22 kilometers from Nairobi city center has 30 rooms complete with emergency exists. But when not escaping from whatever, there are several Jacuzzi for your indulgence.
For a vintage view, one has to walk through murram road snaking through the bush and shrubbery that opens into an open field with a perfect view. To arrive at the gate, you have to climb a small hill.
The imposing concrete pillars hold on to a red tile roof of the residential building surrounded by acres of space hedged by a perimeter wall hemmed by flowers at the entrance.
While there are two German Shepherds at the entrance, the place is abandoned. The compound is full of weeds scattered like dandelion fluff in high wind. On the lower side of the building is a stream, a maize plantation and a row of squatter houses.
On its periphery are 'extensions' resembling a garage and a bar.
A neglected rectangular shaped swimming pool lies at the back of the house with large cracks on its side.
Neighbors say they last saw the owner almost a year ago, even though ongoing renovations and apparent security suggest what is to be hotel in the offing.
' I used to visit it when I arrived in this area because I found it fascinating. It has rich history. I loved staying in the compound because the inside of the building was in a mess and full of dust," says John Songoi, a guard at a nearby estate.
Titus Muhia, a resident of Ruiru, said few knew the building existed until coffee trees were cleared.
"Many people used to throng the place because of its strategic position and architectural design. It was seen as a tourist attraction but nowdays the place is a no go zone because it is heavily guarded.
Related Topics