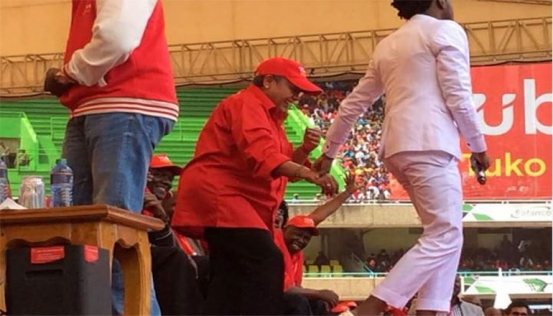 It was pomp and glamour yesterday when members of Jubilee coalition got together at Kasarani to launch their much- awaited party that saw thousands in attend.
During the occasion, several mainstream artists both from secular and gospel thrilled delegates and fans present. During the celebration one thing happened that caught the eyes of many Kenyans besides eliciting mixed reactions.
It was the moment singer Bahati sat on President Uhuru Kenyatta's and his Deputy William Ruto's seats. At some point, he pulled the First Lady to dance with him something that did not go down well with a large section of gospel artists not to mention his fans and Kenyans in general.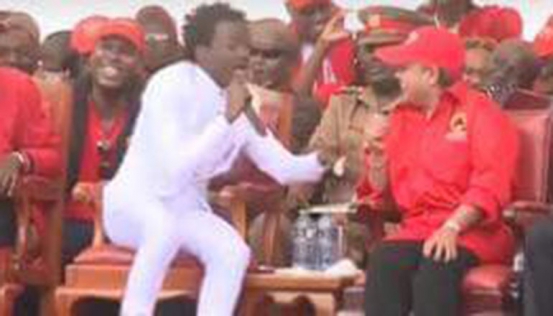 A seemingly concerned former secular turned gospel musician cum minister Circuit posted in the gospel group social platform
"This story is about character. Gospel musicians should have the character of Christ. Singing at a political event is no problem. The question is rather, are we as gospel musicians having the character of Christ? Good example is the current debate on twitter about what Bahati did by sitting on the President seat, when singing on stage....is that Christ like character?" he questioned, a sentiment echoed by a number of renowned local gospel artistes in the group.
But that is not all. Bahati's action went ahead to draw mixed reaction from a section of Kenyans who went ahead to post a number of comments on social media.
A seemingly disappointed fan posted: "the moment I watched Bahati sit on our presidents and dps chairs then pull the first lady to dance I automatically knew our next generation is imperilling our future. A generation that does not respect national symbols and hence is doomed," said Cyrus Omondi.
Another furious Watson Mwenda wrote: "I was forced to switch to other foreign channels owing to embarrassment until I was sure the boy had finished his act."
But a few others feel that it being a public political event it wasn't a big deal, stating that Bahati was just out to sing his song Mama for the first lady.
Related Topics