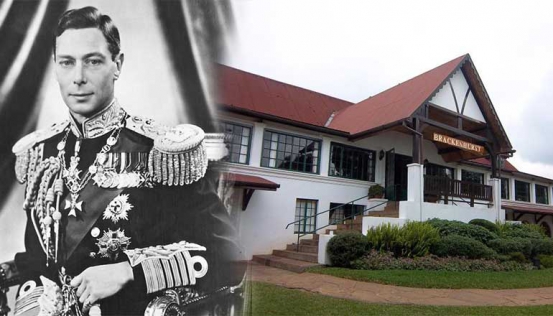 The misty and often cold Tigoni area around Limuru boasts a rich colonial history.
White settlers like the McDonnel family chose Tigoni for their agricultural experiments with tea and hence, the lush tea plantations there, yet few believed tea would grow in a chilly place. The late Arnold Arthur McDonnell bought 350 acres of land in Tigoni from the colonial government on his way to becoming Kenya's and Africa's first commercial tea farmer and the tea tradition for which the country is now famous.
His farm, Kiambethu, has been hosting tea tours since the 1960s and McDonnell's granddaughter, Fiona Vernon, has continued the tradition even though Kiambethu's acreage has shrunk to 35 acres. The role of the McDonnells in Tigoni is evident from the All Saints Church in Limuru, which Arthur McDonnell designed in 1938 and where world-famous anthropologists Louis Leakey and his wife are buried. Back then, jungus were buried in church grounds and miros were thrown in forests!
All the McDonnells held their weddings at the All Saints Church Limuru, besides all four McDonnell daughters attending Limuru Girls' School, which was founded by McDonnell for his daughters, but attendance saw outsiders gain admission
Though Limuru Girls is next to Kiambethu farm, there was a separating border. Actually, his daughter, Evelyn Mitchell, mother of Fiona, could see his bedroom window from her class! Evelyn died in 1998.
Then there are the Hudson Cane family who arrived in Limuru by train from Mombasa and travelled by an ox-cart to what is today the plush 270-roomed Brackenhurst Hotel and Conference Centre, so named after Cane's home area of Brackenhurst, England. The Cane family bought 157 acres from Charles Major for £500 (Sh70,000 at current exchange rates) and lived at the present day Farm House Cottage, then named Rose Cottage, from 1914 when World War I was starting, until it was converted into a Christian retreat and hotel in 1927.
Hudson was buried at All Saints Limuru when he died at the age of 76 in 1943 and 20 years later, Brackenhurst was turned into a conference centre at the cusp of Kenya's independence. Brackenhurst is now under the Baptist Mission of Kenya. But did you know that King George VI, the father of the current Queen Elizabeth II, had a farmhouse in Tigoni?
Well, the original title deed was in his name. The main house was built in 1948, and after several ownership, was acquired by the present owners in 1986. It is now Thayu Farm Hotel and Conference Centre off the old Limuru Road.'Thayu' is Kikuyu for 'peace' and the log cabin conference facility there was built from wood from a horse barn on the farm.
King George VI declared Nairobi a city in 1950, two years before he succumbed to cancer and his daughter became queen while on a visit to Kenya. Most of these wazungu who lived in Tigoni at the time mingled at the members-only Kentmere Club founded in the 1920s, when horse carriages took men to shooting parties. It is now open to the public after the late billionaire businessman and politician Njenga Karume bought it in 1986.
It was at Kentmere where Karume, who died in 2012, wedded Grace Njoki in 2006, three years after the death of his wife Maryanne Wariara. Kentmere Club is now under Karume's Jacaranda Holdings Ltd. Kentmere is in Cumbria, England.
Related Topics