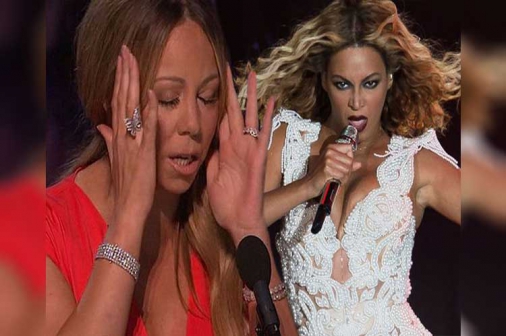 Mariah Carey and Beyonce are two of the biggest stars in the music industry - but it seems there's only room for one of them in Mariah's home.
According to a shock new report, the singer, 46 - who is engaged to billionaire James Packer, 47 - once hurled a laptop out of her window when her fiancé played Beyonce's Crazy in Love to her.
Website The Fix claims the incident last month escalated when James had attempted to seduce his other half with the track.
"Oh boy, was that a disaster! Mariah threw the computer that was playing it via speakers out the window!" a source told the site.
"Seriously, she just trashed it. She ran out of the room screaming."
The source added: "So the night was obviously finished for James, and they retreated to separate parts of the house. And she had a few glasses of wine to cool down."
Mariah reportedly prefers not to hear other artists' music played in her home.
It's not the first time the star has been labelled a diva by fans, as she famously asked for a red carpet - lined with candles - to be laid out for her in 2005 as she entered a hotel.
And who could forget claims she demanded a live version of her song Fantasy to be played as she gave birth to her twins in 2011.
It was also previously claimed Mariah was asked to be part of independent film Tennessee, and after allegedly being told she could only fly economy, she is said to have bought every other seat on the plane.
Related Topics