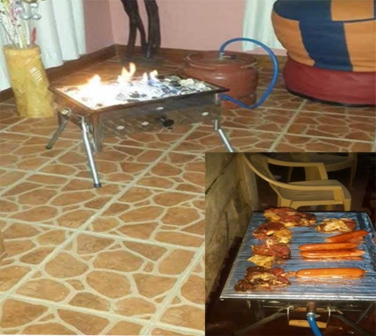 You can now roast your goat ribs using gas and in a smoke-free environment that won't have neighbours in Gorofani Flats calling the caretaker.
Collins Ng'etich has created a barbeque grill that uses cooking gas. The two and half feet grill comes with an oven compartment that can be used to roast sweet potatoes or as a food warmer.
"Instead of using charcoal, I opted for imported tufa stones (a variety of limestone which retains heat). The stones are smoke-free and retain heat for hours," he shares, adding that, "The stones are just like those from volcanoes and can last a lifetime. Only the gas cylinder needs refilling once in a while."
Ng'etich says the tufa stones are imported from Turkey. The complete system inclusive of the special stones costs Sh7,950.
The University of Nairobi law graduate explains that, "I stumbled on the idea during one of my visits to shagz in Eldoret. It was so challenging to roast meat or sweet potatoes using charcoal and jikos."
The grill is twice as fast as a charcoal grill. It is attached to a six-kilogramme gas cylinder with a suitable nozzle for fixing a pipe and regulator.
"This special grill lights up stones and on top of the stones is another grill for roasting meat or smokies. You may need to use aluminium foil," says Ng'etich, adding that, "The lower compartment is just like an electric oven and can roast or warm food in less than 10 minutes".
Ng'etich's innovation has been in the market for two months now and every week, he sells about five grills. He's got plans to set up a plant in Kitengela.
"For now, my target clients include restaurants and apartments that initially didn't allow use of charcoal. I plan to design bigger ones for big restaurants and huge nyama choma joints."
Related Topics