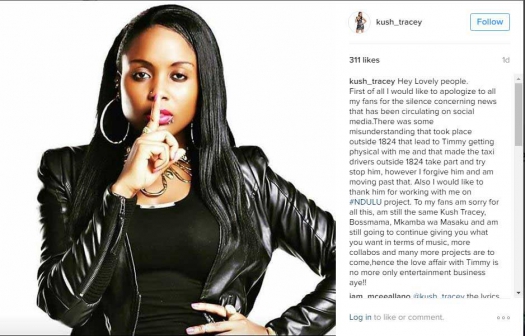 Kush Tracey has come out to explain the reason for breaking it off with Timmy.
In unclear circumstances, it is alleged that Timmy got physical after a misunderstanding that happened in 1824 where the two artists had gone to have a good time resulting in the breakup. However, Timmy who was at the Mseto tour campus yesterday in Meru, pointed an accusing finger to an aspiring Kisii politician for attacking him and snatching his girlfriend.
Desperate to set the record straight, Kush Tracy broke her silence with a long message on her Instagram explaining how it went down and confirming the breakup rumors that have filled the gossip pages.
"Hey Lovely people. First of all I would like to apologize to all my fans for the silence concerning news that has been circulating on social media. There was some misunderstanding that took place outside 1824 that lead to Timmy getting physical with me and that made the taxi drivers outside 1824 take part and try stop him, however I forgive him and am moving past that. Also I would like to thank him for working with me on#NDULU project. To my fans am sorry for all this, am still the same Kush Tracey, Bossmama, Mkamba wa Masaku and am still going to continue giving you what you want in terms of music, more collabos and many more projects are to come, hence the love affair with Timmy is no more only entertainment business aye!'" she posted.
Related Topics