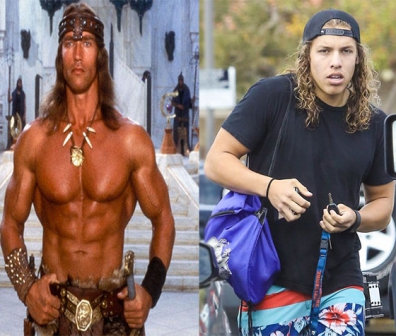 Arnold Schwarzenegger's love child Joseph continues to turn heads as he looks just like his famous father.
Teenager Joseph - who was born after Arnie had an affair with his housemaid Mildred Baena - is the illegitimate son of the action movie legend, and it's clear he takes after his dad.
He is the spitting image of a young Schwarzenegger, and put his bulging muscles on show as he ran some errands looking ready for a trip to the beach.
He was spotted in a pair of tropical board shorts, a plain black t-shirt and a hat covering his long, wavy hair, which is a similar style to his dad's early do.
Joseph is built the same as Arnie and looks a lot like his dad in promotional shots for his starring role in 1982 movie, Conan the Destroyer (Minus the body paint).
Four years after Arnold admitted to fathering a love child he opened up about his secret son.
In an interview with SiriusXM host Howard Stern, the Terminator star described Joseph as "fantastic".
He said: "He's terrific and he totally understands the situation. So, it all has worked out … It's a very tough situation for him. It's a very tough situation for my kids, very tough situation for my family,"
Arnold added: "It was tough for everybody. But it has happened and now we have to figure it out, right?"
Related Topics