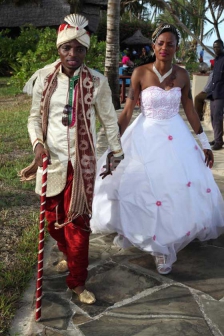 One memorable morning (April 26, 2012) a beautiful woman named Mary Mutete walked into a nearby shop at Mombasa's Kisauni, Bakharani to buy spices.
It was just minutes after 10am in the morning when one of Kenya's news anchor cum reporter Lofty Matambo, joined in the queue to buy some washing shop.
What began as a formal conversation between the two later turned into some sort of a love struck movie with the duo stealing glances at each other accompanied by suggestive smiles and unending laughter before they finally decided to exchange phone numbers.
"After this I had to make four trips to her neighboring home in a bid to talk to her- three of which were in vain owing to the fact that her aunty refused me to see her. But despite this I never gave up and luckily enough my fourth trip turned out to be a success when we went for a lunch date at a club and restaurant Salasa - Sea Front Nyali Bridge on Labour Day," says Lofty.
A year later their friendship culminated into deep affection prompting Lofty to utter the magic words 'will you marry me' – and even went ahead to plan for their wedding during one of their outings.
However, things did not work out as planned. "At the time I had just secured a job with a production company in Nairobi which was less paying despite the involving assignment and so we had to postpone the wedding plans," says Lofty.
"Despite the disappointment I played my role to ensure that I got a job in Nairobi in order to be closer to my future life partner. In 2015 he proposed to me for the second time in our church The Living Word situated in Kayole," says Mary.
"The second proposal came as a great shocker to her since I was forced to interrupt the normal church service in order to drop the surprise for her," adds Lofty.
And it appears there was no stopping the two this time round when they were finally pronounced husband and wife last Saturday at Kikambala Methodist Church, Mtwapa.
Tears of joy, jubilation song and dance rented the air as the groom Lofty Matambo and his best man James Muchoki as well as the groomsmen draped in cream Indian attire made locally by Congolese designer Laurent entered the church followed shortly by the bride Mary who looked gorgeous in a strapless long flowing wedding gown accompanied by best maid Priscilla Wambui.
The three in one public wedding saw Lofty's two other cousins wed alongside him.
Among the guests present were the bride's and the grooms parents from all asides. Relatives, friends, Lofty's workmates from the Standard Group Editorial team and KTN crew, Kilifi Senator Stewart Madzayo and a few celebrities among them Jalas, Alex Mwakideu, Zubeda Koome, Mashirima Kapombe (was one of the brides maids) Producer St P, Samawati band, emcees Arnorld Munga of Pwani FM, Fridah Mwaka, Mzee Ngala and his band including Samantha's Bridal team.
"With my body, I honour you. And all I have I give you. I affirm my love to you by promising to add value to you and provide a shoulder for you to cry on, my confidence, my wife, my one and only true love," an emotional and somewhat hilarious Lofty vowed, sliding an expensive Silver ring onto Mary's ring finger before they were declared man and wife.
Related Topics