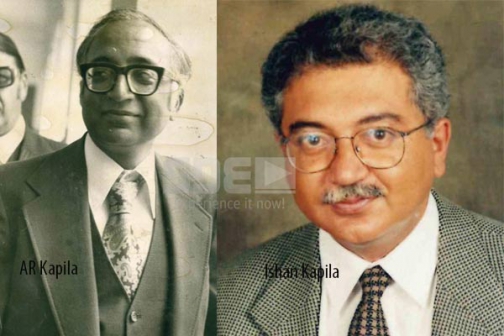 The Kapilas are one of Kenya's most renowned legal families since relocating from India to Kenya in 1930, when the patriarch SR Kapila established SR Kapila & Kapila Advocates, and shortly made a name as a 'dissident' lawyer; representing Africans charged with sedition and other political crimes. His brood continued in the same line, while operating from the same premises for over 50 years along City Hall Way.
AR Kapila: (Acchroo Ram) Kapila was called to the bar at Lincoln's Inn in 1946, as were his two sons later on. He took over his father's firm and carved his immortality when at just 26, he was among the lawyers, including Dennis Pritt, Dudley Thomson, HO Davis, Jaswant Singh and Fitz de Souza who represented Mzee Jomo Kenyatta and the Kapenguria Six in 1953. The star of the criminal lawyer rose and presidents Milton Obote (Uganda), Julius Nyerere (Tanzania) and Albert Rene (Seychelles) lined up as clients.
It is a stain on the President Jomo Kenyatta when his administration jailed his former lawyer on foreign currency violation charges for being in possession of £26 (Sh3,600) after a trip from the UK. The man made a Senior Counsel by retired President Kibaki died of blood cancer aged 77 years, in October 2003.
Sheetal Kapila: The old hand in commercial arbitration, civil litigation and expert in law of defamation, joined his father's firm after graduating in 1978. The Sloan Fellow, London Business School and Member, Chartered Institute of Arbitrators, heads AR Kapila & Co Advocates.
Ishan Kapila: The partner at AR Kapila & Co Advocates represented powerful nabobs in government - retired President Moi, Nyachae, Mudavadi and Biwott were some of his high-profile clients in a 24-year legal career. The alumnus of Nairobi School (Grigg House) class of 1970, Rugby School and the University of Sussex, England, was a music aficionado (his collection encompassed soul, funk, contemporary and traditional jazz, classical, country, classical Indian, reggae, Lingala and Latino) and co-hosted the Capital Jazz Club with Jack Ojiambo on Capital FM.
The golf buff and diehard Man United fan also cancelled all meetings that clashed with Pakistan vs India cricket matches! Little wonder, his last client was Kenya's cricket great, Maurice Odumbe!
The hubby of Nassem and father of Siddartha and Chhaya died of heart failure at Nairobi Hospital on April 16, 2005. He was 48.
Related Topics