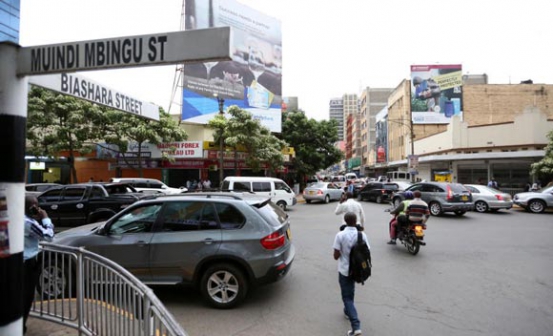 There are no bars along Nairobi's Biashara Street — just banks, baby shops and a few outlets selling tourist souvenirs. There is the odd 'Exhibition,' but Biashara Street remains the city's 'Baby Avenue.' If you spot a guy, man solo, sauntering into those shops, just know the wife of 'Baba Mtu' called demanding a new mkebe of Naan baby powder milk.
These shops are mostly run by Asians. The reason is simple. Biashara Street, previously known as Bazaar Street, was where the early Asians who came as 'Coolies' to build the Uganda Railway opened Nairobi's earliest shops to cater for the influx of labourers.
Railway engineers under George Whitehouse operated from Kipande House, his warehouse during the day, slept in the current Pan Africa House (the building that today houses Family Bank and Standard Chartered Bank) along Kenyatta Avenue at night, but shopped mostly on weekends at the Indian bazaars.
It was then a dusty, tin affair and "immense amount of work required in converting an absolutely bare plain... three hundred and twenty seven miles from the nearest place where a nail could be purchased, into a busy railway centre," noted railway engineer Colonel J.H. Patterson in his 1907 book, The Man-Easters of Tsavo, that inspired three Hollywood flicks; Bwana Devil, Killers of Kilimanjaro and The Ghost and the Darkness.
Nairobi, with Maasai grazing their cattle on what was a swamp on the edge of a forest, was never meant to be a capital city. Machakos or Kikuyu towns were hotter favourites.
But John Ainsworth, the Native Commissioner, chose it after he was transferred from Machakos. John Ainsworth was the guy who drew city bylaws that still baffle us to date, besides planting the trademark blue gum trees. His house was at Ainsworth Hill (now Museum Hill), while his Ainsworth House (that still stands today) was inside the Nairobi National Museum. With Ainsworth in charge, the Imperial British East Africa Company deemed it fit to erect government offices here.
IBEA Building on Moi Avenue (where Lavish Lounge now operates) was its office base, while Pan Africa House on Kenyatta Avenue were the lodgings. Railway workers holed up in tents, but shopped at the Indian Bazaar, where rats also found a home that resulted in the outbreak of bubonic plague - the Black Death - that killed 20 'Nairobians.'
Dr Alfred Spurrier, the medical officer at the time, ordered Indian Bazaar torched down in 1902 after Dr Rosendo Ribiero (who was known to do his rounds on a zebra) diagnosed bubonic plaque as the cause of the deaths, photographer Nigel Pavitt informs us in his pictorial offering, Kenya: A Country in the Making 1880-1940.
Rats, it seems, gave birth to Biashara Street as it was moved to its present location with proper corrugated iron sheet roof houses at a time when mabati had to be imported!
Related Topics