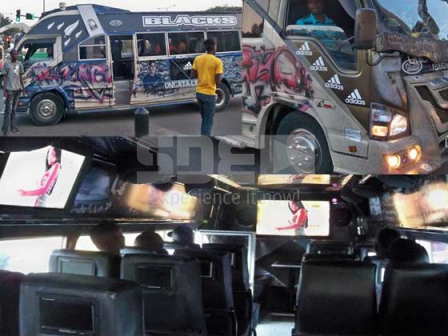 Kenyans are known for their creativity. They will create a situation, make fun of it and before you know it, they are owning the trend.
Take for example this mathree, All Blacks, that is part of the Ongata Line Sacco fleet.
It got its name from the New Zealand national men's rugby team. The exterior of the mathree comprises of photos of the mean-looking players.
Further, this mathree, is the only one so far that I have come across with Samsung tablets installed on the seats.
Yes! Those tablets that cost a cool 50k! Well, it is a business strategy that is definitely bound to woo customers.
Speaking to Ma3 Culture, one of the staff, Felix Njoroge, said this was an idea that took months to execute.
"Our customers are mostly the youth. We want to give them the best services," he said.
For passengers who love privacy, it will cost you Sh100 to book a VIP cosy seat. Here, you can also enjoy various games on X-Box.
"We charge Sh100 for VIP seats which is Sh10 or Sh20 above the normal fare, depending on the time of the day," added Njoroge.
CCTV cameras have been installed inside and outside the mathree to ensure passengers' safety.
Next time you are visiting Rongai, you know the mat to look out for.
Related Topics