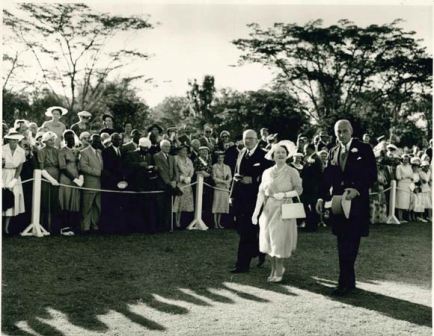 President Uhuru Kenyatta made use of the Sagana State Lodge, in Nyeri County last week when he opened a two-day conference for Governors and Senators to discuss the achievements and challenges of devolution.
Sagana is a State Lodge where Kenya's president can hole up for a night while on duty. It's not a State House. There are only three State Houses in the country - in Nairobi, Nakuru and Mombasa (where Uhuru's old guy was 'killed by death' in August 22, 1978). It was also from State House Mombasa (which Kenyatta I had his 'working holidays') where State House Comptroller, Eliud Mathu once went missing for days only to be discovered 'cut like a diamond' in a ditch in Ganjoni, as Duncan Ndegwa notes in his 2009 memoirs, Walking in Kenyatta Struggles: My Story.
The Oxford-educated Mathu and his business partners, Andrew and Elia Zagoritis, built what is today Runda from their joint Runda Coffee Estate.
Back to State Lodges. Besides Sagana, the others are in Eldoret, Kisumu and Kakamega, with the Sagana one being the most used. In 2003, the Kibaki administration used Sh67 million to renovate the Sagana State Lodge, but retired President Kibaki rarely stayed there and preferred returning to Nairobi after official functions. Having grown up in Nyeri perhaps made Kibaki feel like Sagana was shagz!
The most publicised use of the lodge was when the former president used stately address in coming up with the Cabinet of the coalition government, together with Prime Minister Raila Odinga following the 2008 post-poll lunacy.
But Uhuru has found more uses for this lodge, including swearing in of Foreign Affairs Cabinet Secretary Amina Mohammed.
But did you know the Sagana State Lodge was one of the 2,500 presents given to Queen Elizabeth II as a leased wedding gift from 'the people of Kenya' when she married Prince Philip at Westminster Abbey on November 20, 1947?
But the then Princess Elizabeth, 21 at the time, did not use the Sagana State Lodge until February 1952. Princess Elizabeth's father, King George VI, died while she was at Treetops Hotel in Nyeri. But it was at the royal residence, now Sagana State Lodge, that she was informed of the death and that she would be Queen - the first such news of ascent to the throne outside the UK since King William IV in 1830!
Did you know a telegram about the royal death was sent to State House Nairobi (then Government House) but could not be decoded? Reason was that keys to the safe of the codebook could not be found!
At the time, Princess Elizabeth was fishing at Sagana and only went to Treetops as a guest of Eric Walker, the former private secretary of Lord Baden-Powell and owner of Treetops, then the only place in the world with a watering hole where wildlife came to visitors!
Did you also know that Princess Elizabeth almost cancelled her African leg of the world tour that included New Zealand and Australia due to insecurity? The Guardian notes that the royal couple only came here to avoid being ridiculed!
But the fears were real. The Mau Mau uprising was heaving around Central Kenya (Nyeri in particular) and the State of Emergency was declared that August, but following her father's death, the trips to New Zealand and Australia were cancelled.
The royal residence that is today Sagana State Lodge was handed to the Kenyan government after independence in 1963.
Related Topics