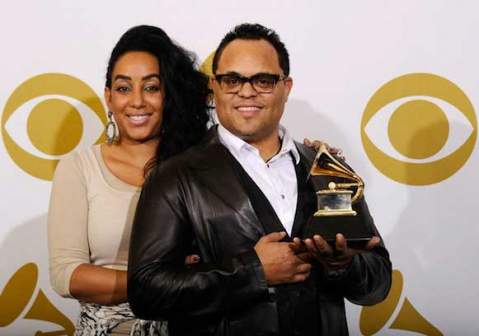 Grammy Award-winning gospel artist Israel Houghton has announced that he is officially divorced from his wife of twenty years, Meleasa Houghton.
In a statement to fans on his Facebook page, the singer admitted to failing and sinning in his marriage. He said that they tried to work through it for the last 5 years but the challenges proved to be too much to overcome.
The full statement read as follows;
It is with a collective heavy heart that we announce that after over 20 years of marriage and a long separation, Meleasa and I are officially divorced.
Several years ago I failed and sinned in my marriage. Though this is new to many, it is not new to us as we have been working through this for over 5 years. Although we tried, the challenges in our relationship have proven too much to overcome. We have always handled our family and ministry with grace and generosity toward others, discretion, and privacy. So, for the sake of our amazing kids, we are also handling this privately with pastoral oversight and assistance. We choose to remain friendly and kind to each other going forward.
I am in the process of restoration and I have repented for my actions. Although I am sincerely sorry, and forgiven, I soberly realize that I will live with the consequences of my failings for the rest of my life. As this has become a public matter I want to apologize to the many who have supported my ministry through the years. I'm sorry for the many who will be hurt to learn of my personal failure. I regret any pain or disappointment that this news may cause you.
We thank you for your prayers and for allowing us to handle this privately with those who are set over us in this process.
Prayerfully
Israel Houghton
Related Topics