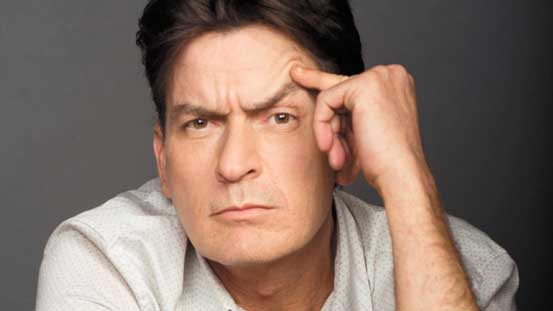 Charlie Sheen has revealed that he's been diagnosed with bipolar.
The actor, who went public with his battle against HIV in November, opened up about the disorder when he appeared on Dr Oz on Monday.
During the one on one, he explained that medical experts had warned him he could be a sufferer at various times over the years.
Charlie admitted: "I've been described or diagnosed by enough people that I guess at some point you have to take a look at it."
People with bipolar often suffer from extreme mood swings, reaching extreme highs - known as mania - to extreme lows - such as deperession.
Talking about how it might have affected him, Charlie said it could have been responsible for some of his questionable behaviour over the years.
He explained: "Manic behaviour is usually in the throes of departing substance abuse and drinking.
"It doesn't really happen when I'm not doing that."
The 50-year-old added that while he isn't on medication for the condition, he would 'certainly consider' taking it in future if necessary.
Dr Mehmet Oz said that Charlie's openness during the show can give hope to other people managing the condition.
The medical official said: "Charlie is brave and at a point where he is taking an honest look at his health and sharing it with the world,"
"The message in Monday's show is that there is hope and successful treatment for bipolar disorder but, if left untreated it will exacerbate other problems like substance abuse and compulsive gambling."
In December, Charlie revealed that he would be throwing all his resources into finding a cure for HIV.
He told Radar Online: "If anybody can fight this thing and discover a cure, it's me. I will exhaust every resource available to me. I will sit with every expert.
"I will move forward until something's revealed."
The dad-of-five also said that the disease had 'picked the wrong guy'.
Related Topics