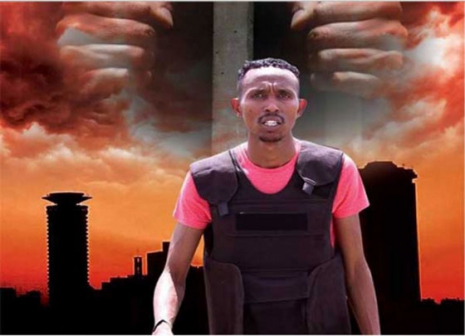 Shikamoo Meja mstaafu Joseph Nkaissery. Natumai u buheri wa afya popote ulipo chini ya ulinzi mkali unaotokana na ushuru wangu na Wakenya wenzangu.
Wiki iliyopita, nilipokuwa nikitazama sherehe za Jamuhuri ya Kenya, twasira yako ilinijia na kutaka kujua ni kwa nini tuwe katika hali ya utumwa tukisheherekea miaka 52 ya uhuru wa taifa hili. Wiki hio hiyo, nikiwa futi kadhaa angani kutoka Mandera, niliarifiwa kuwa ulinitaja jina, sio mara moja, bali mara kadhaa na kuonekana kujaribu kuhusisha jina langu na wanamgambo wa Al-Shabaab, eti nilikuwa nikipasisha ujumbe wao na kutokuwa mzalendo mpenda taifa.
Naarifiwa pia ulitutaka, sijui kama ni mimi na Yassin Juma, tuombe msamaha kwa kutoa taarifa za kutatanisha. Naomba kwa heshima nikuweke sawa mzee wangu.
Kwanza kabisa, siombi msamaha maana sijui kosa langu ni lipi. Pili, wa kuomba msamaha ni wewe kwa kutuhusisha sisi wawili na ugaidi ukitumia wadhifa wako, huku ukilegeza kamba kwa kuchagua wanahabari wawili kati ya wote walioripoti tukio hilo. Je, ulituchagua kwa sababau sisi ni Waisilamu? Je, ulituchagua kwa sababu sisi hatukubaliani na kauli ya serikali? Je, ulituchagua kutokana na msukumo wa wale maskauti wa propaganda 36 wa serikali? Nauliza unijibu.
Taarifa hizo zilisemwa na wengi, lakini ikija kwangu sijui ni dini, kazi yangu murwa, jina langu au msimamo wangu. Ningelipenda kukukumbusha kuwa kuna msemo unaosema mti mwenye matunda ndio upigwao mawe.
Naona serikali imenichagua kuwa mti huo kwa sasa. Sitaomba msamaha kwa kusema baadhi ya viongozi serikalini ni wafisadi; sitaomba msamaha kwa kusema tangu uhuru wa taifa hili, kuna mauaji ya kiholela Kenya; sitaomba msamaha kwa kusema bunge letu limejaa mafisadi; sitaomba msamaha kwa kusema serikali iliyo mamlakani imetufeli kwa kutotimiza ahadi zetu, ahadi ilizotuahidi wakati wa kampeni zake; sitaomba msamaha kwa kuuliza ni nani aliyejaribu kupora ardhi ya shule ya msingi ya Lang'ata; sitaomba msamaha kwa kuuliza ni nani anayeua vijana humu nchini kama inavyoripotiwa na mashirika ya kutetea haki za binadamu humu nchini na hata nje; sitaomba msamaha kwa kuuliza pesa za NYS zililiwa na nani; sitaomba msamaha kwa kuuliza senti za Eurobond; sitaomba msamaha kwa kuuliza senti za Anglo-Leasing; sitaomba msamaha kwa kuwakemea baadhi ya viongozi kukoma kuwatenganisha Wakenya kwa misingi ya kikabila na matamshi yao ya chuki, juu ya haya yote, sitaomba msamaha mtu binafsi bali nitamwomba aliye juu Mbinguni anayestahili sifa.
Kama nikuomba msamaha bwana Nkaisserry basi naomba msamaha wa kuzungumza ukweli na kuzidi kuzungumza ukweli kila kukicha. Kumbuka tumeona wengi wakija na kuondoka. Tumeona wengine wakiapa hawatajiuzulu labda wafe. Hata maisha yangu yakitishiwa, nitasimama kidete. Ni kwa nini unachafua jina na hunijui, wala hatujawahi zungumza. Je, ulinialika afisini mwako? Je, ulitaka kujua kiini cha habari hizo zilitoka wapi? La, hasha!
Inakuaje walio mamlakani wana haki ya kuniita gaidi, kunitusi na hata kunitishia? Kumbuka kuwa Mungu halali ni mkuu na atatulipia. Naomba uniskize Bwana Waziri, japo mdogo wako ki umri na fikra. Kwa mtazamo wa wengi na hata wadadisi wa masuala ya kisiasa, gaidi mkubwa zaidi duniani ni serikali isiyojali watu wake na kuwahudumia ipasavyo.
Gaidi ni serikali inayowaibia watoto wake. Gaidi ni serikali iliyojawa na ufisadi. Gaidi ni serikali inayogawanya wananchi wake kwa misingi ya kikabila. Gaidi ni serikali inayokuza chuki na uhasama miongoni mwa watu wake. Gaidi ni serikali isoyodhamini uhai wa binadamu. Gaidi ni serikali isiyotatua matatizo ya kila siku ya wananchi wake.
Kama alivyonena Robert A Heinlein, "When any government, or any church for that matter, undertakes to say to its subject, 'This you may not read, this you must not see, this you are forbidden to know,' the end result is tyranny and oppression no matter how holy the motives"
Naarifiwa vita hivi vyote dhidi yangu ni kwa sababu za kisiasa. Mwanipeleka mbio kama gari mpya mkihofia nitainingi siasa? Mimi ni mwanahabari kwa sasa. Mbona mwaeneza chuki na fitina dhidi yangu? Leo nawakumbusha kuwa msafara wa mamba ndani yake kuna mburukenge, kwa hivyo mshistuke! Ketini mkijua pindi mwakani salamu zitawajia na mkumbuke si kila anayeishi mahakamani anajua sheria. Kwa sababu ya vitisho hivyi, nikifa leo au kesho, wakulaumiwa atajulikana. Lakini mimi siogopi kufa. Msijaribu kuturudisha katika enzi za Kanu. Hilo haliwezekani maana ni sawia na kutia gunia upepo.
Mohammed Ali ni Mhariri Mkuu wa Kitengo cha Upekuzi KTN. Kuwasiliana naye: [email protected]; [email protected]; FB: Official Jicho Pevu with Mohammed Ali; Twitter: @mohajichopevu
Related Topics