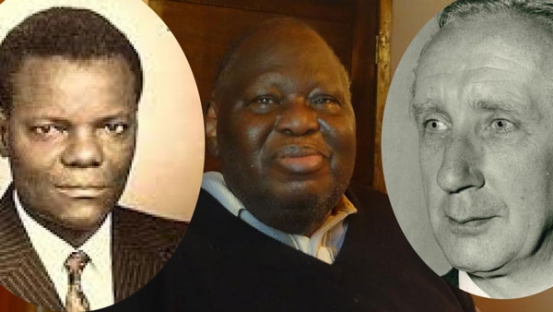 Just last month, the media credited the late Mzee Meza Moroa Galana as the composer of Kenya's national anthem. Mzee Galana died in Hola, Tana River County. He was 96.
Our national anthem was, however, identified by five people: Graham Hyslop, Prof Washington Omondi, George Senoga-Zake, Rev Thomas Kalume and Peter Kibokosya who received a letter from Mzee Jomo Kenyatta thanking them for "applying yourselves to discharge this happy duty with your best endeavour."
The Anthem Commission settled on a Pokomo lullaby as the basis for Kenya's anthem which was selected by over 600 school children who listened to three different versions at his Gatundu home before picking the prayer-inspired version sang today.
Graham Hyslop: The organist at All Saints Cathedral and after whom the Hyslop Building at the University of Nairobi was named, chaired the Commission. He was Kenya's Inspector of Music and worked on many traditional Pokomo songs, hence the bias for a Pokomo tune! He conducted the All Saints and Alliance High School choirs in recording the anthem's English version. He died in 1978.
Rev Thomas Kalume: The first clergyman elected in Parliament was a music teacher at St Paul's Theological College and is credited for insisting the anthem begin with the words, Oh God of all creations... The alumnus of Alliance, University of London (BA, Divinity and MA, Theology) also attended New York Theological Seminary. He translated the New Testament from Hebrew to Kiswahili. The one-time MP for Malindi North and father of nine died on March 15, 1975.
Peter Kibukosya: The alumnus of Queen's University, Belfast was for years the chair of Kenya Music Festival and has a school in Nairobi named in his honour. He died in 1978.
Prof George Senoga Zake: The one-time host of Nyimbo za Kitamaduni and Folk Music of Kenya in KBC was a music professor at Kenyatta University - where he founded the Music Department. The Kenya-based Ugandan was the first East African to attend Licentiate of Royal Schools of Music in 1956. He arranged our anthem, besides conducting the Railway Training School Choir in recording its Kiswahili version. He died in 2008.
Prof Washington A Omondi: The founding chair of the Presidential Music Commission is credited with dissuading a distraught President Moi from changing the national anthem as part of a 'new beginning' after the 1982 abortive coup attempt. The alumnus of Edinburgh University and the University of London, was the first principal of Maseno University in 1990. The ethno-musicology expert is now an Associate Professor at Kenyatta University in Nairobi.
Related Topics