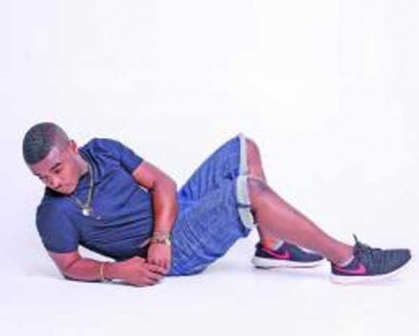 On this Monday morning, the usually bubbly Sudi Boy looks worn-out but still tries to seem elated. After spending Saturday night performing in Voi, he has spent the whole night in a bus to Nairobi for the next mission.
In fact, the news that he was voted the Male Artiste of the Year during the Pwani Celebs awards caught him in the bus.
"I am tired but the hustle has to go on," he says with a light smile. "I gave my apology in advance but I feel great to be recognized."
With most Coast awards mired in controversy and claims of favoritism, Sudi is quick to point out that, this time most of the winners were legitimate recipients. "Most celebrities win the same awards almost every year because they stand out. Susumila, Kaa La Moto, Ally B, Nyota... these are artistes that have stood the test of time and know how to survive in the industry," he affirms.
Sudi is entitled to be listened to. He is now a veteran Mombasa showbiz star, having survived for over seven years in an industry where only few have lasted. He has had a busy 2015, rolling up his sleeves to keep with the tempo he had in 2014 when he worked with showbiz darling Amileena to release the popular hit Naona Bado and leading hip-hop act Rabbit for Twende. He has managed to swim smoothly across great barriers that have stalled many Mombasa artistes when seeking a national appeal. Little wonder then he is now in Nairobi, expanding his territory.
"I do not sit around and wait for my name to grow. I push my brand. I sought out Amileena to work with her because I believed we would gel. I am currently seeking out Eddie Kenzo (from Uganda) and Ali Kiba (from Tanzania) and I will work with them," he says with unbridled confidence, his humble demeanor overshadowed in this sheer optimism.
His star is still rising. After releasing Kule Kule, he worked with Kigeugeu artiste Jaguar on Barua Kwa Rais, one of the greatest songs the local industry managed to file this year.
"Contrary to what people think, Jaguar knows what the fans want and that is why all his songs are hits. He is hardworking and very focused," he remarks, adding that he also admires Rabbit's artistry. The two have an obvious chemistry, having also worked on Nakuchukia, another hit track.
He has grown up from the scrawny kid who gained national fame after working with Pilipili on Mteja, then an upcoming star who had little to be talked about. "He was the first artiste to be convinced of my talent. I was in Nairobi for over two months working with him," he says, adding that another collabo with the singer is in the works.
Sudi is always on the road. Now, he does most of his shows in Western Kenya. His lyrics are mostly laced with love messages. That is his niche; even though he also tackles other social issues.
"I know what people want to hear and I deliver. Love and life struggles are what many people relate with."
Back to his personal life, he is not comfortable talking about his late wife, Salma. One can see the strained silence that overcomes him when we delve into the matter of her death.
"You know I wrote all my hits while she sat on my side," he recalls before taking a long pause.
This pain is understandable. A minute or two of reminiscing won't hurt. The two lived with Salma's child from another relationship. The affair was in the public domain and Pulse followed it up, highlighting its highs and low. His head downcast, he takes a deep breath, gathering his courage like a man, then recaps: "I always shared deep career ideas with her. Musically, she was my adviser.
At first for example, I wanted to work with Avril but she (Salma) is the one who convinced me to work with Amileena. The outcome collabo was a masterpiece. Salma was almost always right about everything. In another life, she would have made a good talent manager. She was more than a wife to me..."
Salma's burial was delayed with negative speculation rife on what held up the function. He seeks to explain.
"Most of her relatives were not from around Mombasa and we had to wait for them to arrive. There was nothing sinister about the delay."
Sudi Boy is in the city to work on songs for release next year. He is not here to bum. No, he has no time to waste.
Related Topics