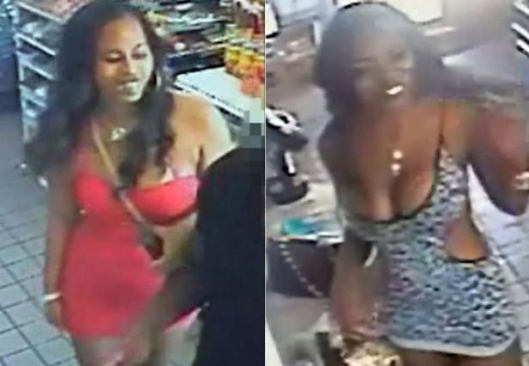 Police are hunting two women on suspicion of sexual abuse after they were caught on camera forcibly twerking against an unsuspecting man in a shop.
CCTV footage from inside the convenience store in Washington DC shows the scantily clad women harassing the man as he attempts to pay for goods.
One woman, dressed in a skintight black and white patterned minidress and heels, is seen backing up and trying to grind against the man's groin area as he talks on his mobile phone while holding money.
The man moves away from the first woman before the second woman, dressed in an equally skimpy pink outfit, tries to touch him repeatedly while attempting to grab his phone and cash.
The video also shows her putting her arm around the man's waist and trying to kiss him before he squirms away, the Daily News reported.
The man did not appear to know either of the women or want any part of the attention.
Police are now hunting the two women, who face charges of third degree sexual abuse following the incident at the New York Avenue store at around 4pm on October 7.
Third degree sexual abuse includes inappropriate touching and "involves actual force, threats putting the person in fear of death, bodily injury or kidnapping," according to DC statute, the Daily News reported.
Related Topics