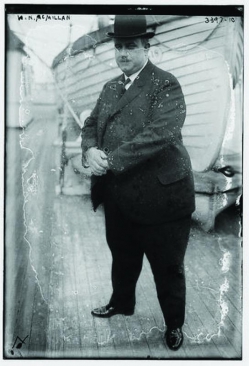 American millionaire William Northrup McMillan fell in love in Kenya after a hunting expedition in 1904. The seven footer, 136kg McMillan's fortune was coined through the manufacture of railway freight cars for the American railroad, but it was in ranching that he was to cement his immortality down these shores.
McMillan bought Chiromo House — still standing at UoN's Chiromo Campus — from Colonel Ewart Grogan. It was the hottest house in town at the time. From Chiromo, McMillan visited his 19, 000 acre Juja Farm where 'the anguish of his crushing failure to father children was only equaled by his indomitable spirit in which he took on one farming failure after the other,' as biographer Judy Aldrick notes in, Northrup: The Life of William Northrup McMillan published in 2012.
The area his ranch occupied was 'Weru wa Ndarugu' (Ndarugu Plains) which he renamed Juja after two statues bought in West African named 'Ju' and 'Ja' hence Juja that's faced by Mt Kilimambogo (buffalo mountain) in the East. Maasais called it Ol Donyo Sabuk (big mountain).
The most famous Kenyan who grew up in Juja Farm was Tom Mboya. His father, Leonard Ndiege, earned one pound (Sh140 at current exchange rate) a month cutting sisal as David Galsworthy informs us in, Tom Mboya: The Man Kenyan Wanted to Forget. After working for 15 years Mboya's old man was promoted to Factory Overseer. Did you know Mboya's birth name was Odhiambo (since he was born ma-jioni at Juja Farm)?
It was at his Juja Farm and its 32 bedroom Juja House (McMillan Castle) that former US President Theodore Roosevelt stayed during his hunting expedition in Kenya in 1909. For its many endless wife swapping and binge drinking parties, local Kamba workers called it, Kilavu, 'Kao' for club. It was at Kilavu that Teddy Roosevelt wrote his bio.
The outbreak of World War I saw the man who used a 66-centimetre belt change citizenship to a Briton, and served as a captain in The Royal Fusiliers and for which he was knighted for war services in 1918.
Did you know McMillan was instrumental in the formation of Kabete Training School for artisans and Kabete School for teachers? Well, in 1920, he was nominated to the first Legislative Council and used his powers to found and fund the two institutions. The idea was to train Africans so as to slow the immigration of Indians to Kenya.
McMillan died in France in 1925, at 53. He was transported and buried at his beloved Kilimambogo. His wife, Lady Lucie bequeathed the city of Nairobi the McMillan Library —the only building in the city that's protected by an Act of Parliament, the McMillan Memorial Library Act of November 1938. The land where McMillan squats can thus not be sold or the building's Victorian design altered!
Juja Farm was later acquired by the Nettlefold Family, shareholders in Guest, Keane and Nettlefold, now GKN plc, a multinational automotive and aerospace components company.
Lady Lucie McMillan died in 1957, the year Tom Mboya entered politics.
Related Topics