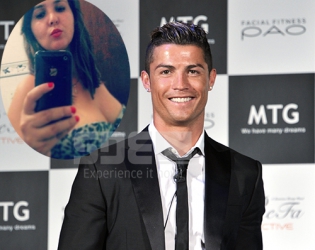 42D Diana Satilho said the Real Madrid star nicknamed her assets 'his girls'.
A student with 42D boobs claims Cristiano Ronaldo's "obsession" with her boobs led to his split from model Irina Shayk.
Brazilian Diana Satilho said the Real Madrid star nicknamed her impressive assets "his girls" and asked to see them over webcam, according to a new report.
The 29-year-old told The Sun: "He said he loved big ones, that's why he noticed me. He asked me to strip a few times but mostly he just wanted to see his 'girls'."
Diana claims the pair finally met during the 2014 World Cup in Brazil and then in September, where they allegedly had sex three times in one night.
"When he saw them for real he went crazy, like a kid in a sweet shop. He couldn't keep his hands off me," she continued.
The student claimed the pair's last contact was in December when Ronaldo contacted her to say his now ex-girlfriend Irina had spotted a message from her on his phone.
Ronaldo and Irina announced they had ended their five-year relationship in March and at the time said the decision was mutual.
It has since been reported Victoria's Secret stunner Irina 'dumped' the footballing ace after finding messages on his phone from 'dozens of women'.
Brunette beauty Irina, 29, is now dating Hollywood hunk Bradley Cooper and were recently spotted packing on the PDA on holiday together in Italy.
Describing her perfect man in an interview with Spanish magazine Hola in June, Irina said: ""He's got to be kind, amusing and honest and he's got to know how to treat a woman. And he's also got to be faithful."
Related Topics