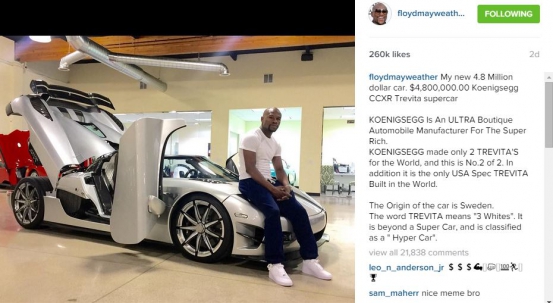 'Money' Mayweather certainly lived up to his nickname as he expanded his collection of cars with his most expensive purchase to date.
Floyd Mayweather continued to live up to his 'Money' nickname - by buying the flashiest car on the market.
The pound-for-pound best fighter in the world posed with his brand new buy, a Koenigsegg CCXR Trevita 'Hyper Car' in a plush garage in America.
Koenigsegg have produced just two Trevita cars and Mayweather has his hands on the second. It is also the only one in the United States.
The exclusive manufacturer is branded as the 'ultra automobile manufacturer for the super-rich' - perfectly fitting Mayweather's billing as the most wealthy sportsman on the planet.
Writing on Instagram, he said: "My new 4.8 Million dollar car. $4,800,000.00 Koenigsegg CCXR Trevita supercar."
Mayweather is currently preparing for the 49th - and likely final - fight of his career, when he takes on Andre Berto later this year.
But he certainly does not expect to lose, as earlier this month he listed himself as the greatest boxer of all time when naming his top five boxers ever.
Speaking about himself, he said: "He's beat more world champions than any other fighter in a shorter time and less fights than any other fighter.
"Landed punches at the highest percentage and took less punishment. He's been world champion 18 years in five different weight divisions."
Mayweather took home $116million for his role in the super-fight with Manny Pacquiao earlier this year - the fight branded the richest in the history of boxing.
Related Topics