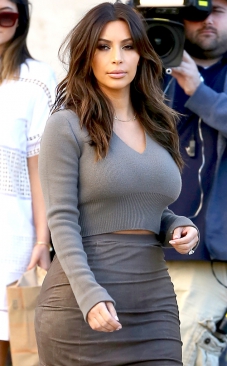 Pregnant Kim Kardashian's assets weigh the same as 20 pints(9 litres) or 14 adult meerkats - we worked this out so you don't have to.
Kurvy Kim Kardashian is getting kurvier by the minute and her boobs have grown so much they weigh the same as 20 pints of Guinness.
The pregnant reality star weighed her chest in an upcoming episode and revealed her boobs weigh 1st 11lb (11kg).
She is seen at the gynaecologist's office, popping her assets onto the weighing scales in a hilarious Keeping Up With The Kardashians episode.
We struggle to get our heads round weights and measures, so here are some of the things Kim's puppies (see below) weigh the same as:
20 pints of Beer
14 adults meerkats
2 newborn babies
733 canaries
73 packets of Jaffa Cakes
Kim's not shy about flashing her pregnancy enhanced assets either. She recently posed naked to show critics that she wasn't faking her pregnancy for attention.
In a lengthy post, she wrote alongside it: "First they say I'm too skinny so I have to be faking it...Now they say I'm too big so I have to be faking it...SMH!
"Some days I'm photographed before I eat & look smaller, some days I've just eaten & I look bigger. It's all a part of the process.
"I think you all know me well enough to know I would document the process if I got a surrogate. Everyone's body is different, every pregnancy is very different!
She went on: "I've learned to love my body at every stage! I'm going to get even bigger & that's beautiful too! I'm blessed to even be pregnant & even luckier to not have preeclampsia as far as I know, so I don't have the swelling issue this time! They also say your body carries a boy different than a girl!
"Whatever the case may be I'm grateful to God for this miracle & no matter what rumors or comments you throw my way this time they truly don't affect me! #NoFilter #NoPhotoShop #GoodLighting."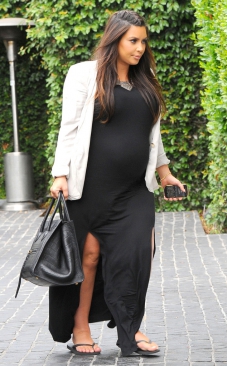 We applaud Kim for this and she looks incredible in the mirror shot showing her growing bump and fabulous booty while pouting for America.
She can be seen covering her right boob with her hand as she positions her phone in her left to make sure it's at the right angle.
The 34-year-old beauty is expecting a boy, her second child with husband Kanye West and we're all dying to know what she's going to name the little one.
Most fans praised her for firing back at her critics - while others are a little bit tired of seeing her naked.
Related Topics