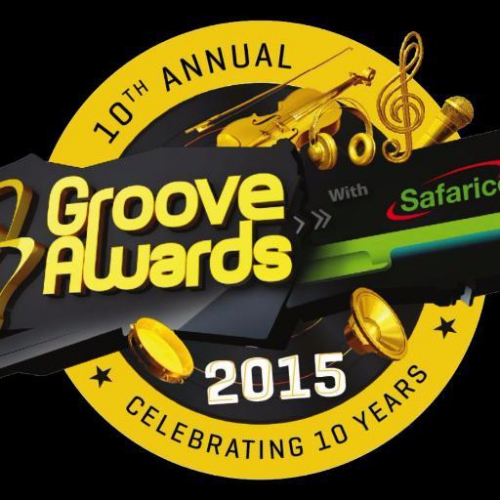 By Brian Okoth
The 10th of Groove Awards gala went down in a colourful celebration at Safaricom Stadium, Kasarani last evening, June 6.
Fashion took centre stage, with different artistes and celebrities gracing the red carpet in elegance and style. Some attended the event with their better halves making grand their arrival, posing for photos on the red carpet.
Among those who made their way to the gala with their partners are: DJ Krowbar with wife Joy, DJ Mo with Size 8, Dr. Ofweneke with wife and Eric Omondi with his girlfriend.
In an exciting gesture of unity, secular artistes too were present to offer support to their gospel counterparts. Rappers Rabbit Kaka Sungura and Octopizzo graced the event.
The ultimate moment came when winners to the different categories were unveiled. One who stood out is singer Bahati after he bagged four awards in all categories he was nominated in, making him the most decorated artiste of Groove Awards 2015.
Here is the full list of winners:
Male Artiste of the Year - Bahati
Nominees: Bahati, Pitson, Pastor Anthony Musambi, Willy Paul, Hopekid, Ljay Maasai
Female Artiste of the Year – Loise Kim
Nominees: Eunice Njeri, Size 8, Janet Otieno, Lady Bee, Evelyne Wanjiru, Loise Kim
Southern Africa Artiste of the Year - Joyous Celebration from South Africa
Nominees: Magg 44-Zambia, Pompi-Zambia, Rebecca Malope-South Africa, Abel Chungu-Zambia, Joyous Celebration-South Africa, Benjamin Dube-South Africa
Song of the Year Nyanza Counties – Omorembe Toe – Fenny Kerubo
Nominees: Bi Uneye Gima Yesu otimo – Moureen Awuor, Jerusalem Dalawa – Mark Oder, Olemo – Christine Otieno, Omorembe Toe – Fenny Kerubo, Ong'e Ngamoi- – Muthoka Evaline, Wasud Nyime – Emma Omonge
Collabo of the Year – Mwanake – Benachi and Kaberere
Nominees: Tam Tam- Willy Paul and Size 8, Matunda – Eunice Njeri and Lady Bee, Mimina – Kris Eeh Baba, Wakati Remix – Fidel Atondola, Crossing Over – Redemption Music, Furaha – Esther Wahome, Olenkodikod – Diddi Kimer
Ragga/Reggae Song of the Year – Searching TPK Sons
Nominees: Abba – Jay General, Crossing Over – Redemption ft. Guardian Angel, Goso – Jfam, Delilah – Hopekid
Song of the Year Central Counties – Ndiari Mwega – James Wanyoike
Nominees: Experiment – Betty Bayo, Gichuri – Milkah Njambi, Maithori – Sammy Irungu, Ndiari Mwega – James Wanyoike, Ngai Wa Itereri – Shiro Wa GP, Tutigukurumana – Grace Mwai
G10 (Upcoming promising talent) – DJ Tabz
Annie the DJ,Dj 21, Dj Frank, Dj G-Jo, Dj Mzito, Dj Tabz, Hype Ballo, Hype Guda, MC Kelly, MC Timeless Noel
Song of the Year Eastern Counties – Katiwa by Justus Mielo
Nominees: Aning'ning' Dance – Mbuvi Mbuvi, Ikomanone – Wilberforce Musyoka, Katiwa – Justus Mielo, Kiss Kya Yutasi – Elizabeth Clipper, Mwinire – Ameru Crew, Ndumbule – Michael Mutuku
Western Africa Artiste of the Year – Sinach from Nigeria
Nominees: Frank Edwards – Nigeria, Lara George – Nigeria, Mercy Oheema – Ghana, Nathaniel Bassey – Nigeria, Sinach – Nigeria, Solomon Lange – Nigeria
Video of the Year – Barua by Bahati
Nominees: Jemedari – Size 8, Sifa – Alice Kamande, New song – Tybe, Kereka – Dkkwenyebeat, Tam Tam – Willy Paul ft. Size 8, Barua – Bahati
Gospel Radio Presenter of the Year – Eva Mwalili of Milele FM
Amani Ayila – Hope FM, DJ Ruff – Ghetto Radio, Eva Mwalili – Milele FM, Jay Njoroge – Homeboyz Radio, Joyce Gituro – Pambazuka, Lawrence Thuku – Truth FM
Album of the Year – Mungu Mkuu by Evelyne Wanjiru
Nominees: Am blessed – Hopekid, Kibali – Florence Andenyi, Mtakatifu – Frank, Mungu Mkuu – Evelyne Wanjiru, Rauka – Kanjii Mbugua, Shekinah Worship – Pastor Anthony Musembi
Song of the Year Coastal Counties – Rafiki by Michael Yena
Nominees: Maombi – Anthony Musembi, Nisaidie – Mercy D Lai, Rafiki – Michael Yena, Tuma Roho – Japheth Musila, Tunakuabudu – Marion Shako, Yesu Ameniona- Martin Murunga
Dance Group of the Year – AltarMIN
Nominees: All Stars, Flamers Crew, Genje, Gospel Warriors, Jims and Dims, AltarMIN
Song of the Year Rift Counties – Erripoto Enkai – Charity Tajeu
Nominees: Ebeneza – Edna Lotole, Ematatui – Pst Joyce Mumeita, Erripoto Enkai – Charity Tajeu, Kongoi – Lillian Rotich, Maa-Leji – LJAYMAASAI, Nyumbani – RuriSambili
Hip-Hop Song of the Year – Mimina by Kriserroh ft Magg 44 and Abel Chungu
Nominees: Didimia – Kelele Takatifu, Inaweza – DJ Lapoze, Opportunity remix – Falenzy and Friends, Tonight – Recapp, Zongelela – SOC, Mimina – Kriserroh ft. Magg 44 and Abel Chungu
Song of the Year Western Counties – Ndakhuyanza – Timothy Kitoyi
Nominees: Khumuichomie – Florence Andenyi, Kusieve – Anne Kamsa, Ndakhuyanza – Pamela Wandera Ndakhuyanza – Timothy Kitoyi, Sandizaga – Linet Njoora, Yohana – Geofrey Kwatemba
Gospel Radio Show of the Year – Gospel Sunday – Milele FM
Nominees: Pambazuka – Radio Citizen, Shangilia – Hope FM, Tukuza – Radio Maisha, Gospel Nite Live – Ghetto Radio, Gospel Sunday – Milele FM, Mwamba Radio Show – Homeboyz Radio
DJ of the Year – DJ Mo Kenya
Nominees: DJ sadic, DJ Krowbar, DJ Ruff, TouchThe DJ, DJGGActivist, DJ MO Kenya
New Artiste/New Group of the Year – Ruth Matete
Nominees: Camp David, Falenzy, Fidel Atondola, Florence Andenyi, Godson Jawabu, Innocent Persons, Recapp, Ruth Matete, Saint Stevo, Tybe
Video Producer of the Year – Sammy Dee
Song Writer of the Year – Jemimah Thiong'o
Worship Song of the Year – Florence Andenyi
Group of the Year – Christ Cycoz
Nominees: Adawnage, Kelele Takatifu, Band Samawati, SOC, VKPMusic
TV Show of the Year – NTV Crossover 101
Nominees: Angaza – KBCChannel1, Ntvcrossover101 – ntvkenya, Gospel Sunday – CTV, KTN Tendereza –KTNKenya, THE SWITCH K24 – K24Tv, KTNTukuza – KTNKenya
Eastern and Central Africa Artiste of the Year – Sarah Nkutile – Uganda
Nominees: Christina Shusho – Tanzania, Coopy Bly – Uganda, Exodus – Uganda, Father Micheal – Uganda, Gaby Kamanzi – Rwanda, Rebecca Soki – Congo, Sarah Nkutile – UG, Solomon Mkubwa – TZ, Wilson Bugembe – UG, ZB – TZ
Song of the Year – Barua by Bahati
Nominees: Delilah – Hopekid, Heshima – Janet Otieno, Kilele – Pitson, Liwe Liwe – Guardian Angel, Tam Tam – Willy Paul and Size 8, Unatosha – Enice Njeri, Mwanake – Benachi ft. Kaberere, Mwema – Mercy Masika, Mtakatifu - Frank
Related Topics