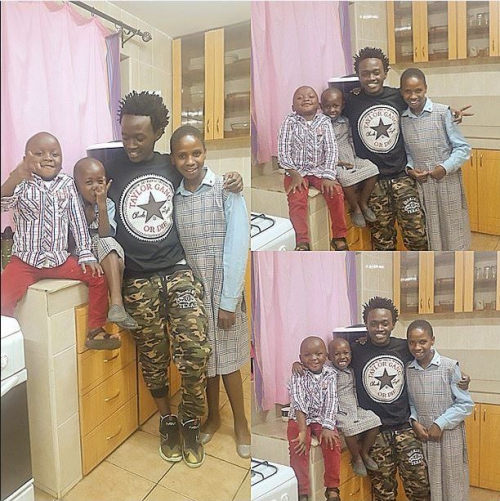 By Sheila Kimani (@sheilakimm)
Music is life to some people. And in the case of gospel singer Bahati, his has been a testimony that touches most of his fans. From the slums of Mathare to Kenya's most coveted stages, Bahati has risen to become a force in the gospel industry.
Last weekend was a chance for him to give back to the slums that raised him to become who he is today with a packed up concert at the Redeemed Church. But that was not his only highlight.
While at it he expanded his family and fatherhood responsibilities by adopting two young girls Purity aged 4 and Rose aged 10 who he admitted had gone through more difficulties in life than he ever had. He welcomed them into his family and hoped to help them achieve his dreams
"My two adopted daughters and son. From Left; Morgan 4 yrs, Purity 4 yrs and Rose 10 yrs Old... These are the beautiful souls that make me wake up and hustle each day.... Each one of them has a sad story than mine. I may not give them all they want, but my desire is to see them prosper and testify to the world about God's goodness someday. It's never easy but I try to be the best parent they have ever seen," he said.
Related Topics