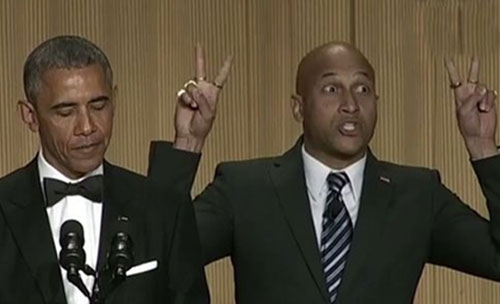 President Obama surprised his White House guests at a recent Correspondents' Dinner - by hiring an anger translator to tell the press what he really thinks.
Luther, a Key & Peele character played by Keegan-Michael Key, was invited on stage by the President before he began his address to the US media.
Standing slightly behind the podium, Luther hovered behind Obama with a wide-eyed look on his face.
Obama began: "I often joke about tensions between me and the press. But, honestly, what they say doesn't bother me.
"I'm a mellow sort of guy. And that's why I invited Luther, my anger translator, to join me here tonight."
Between them, the pair began their speech on climate change, Ebola and Hillary Clinton's presidential campaign.
Addressing the press about the Ebola crisis, Obama said: "We won't always see eye-to-eye," before Luther quickly cuts in.
"For two whole weeks we were one step away from The Walking Dead. And then y'all got up and just moved on to the next thing."
But eventually, the sketch moved on, and Obama ended up being the one to lose his cool over climate change.
Pretending to be stunned by the President's outburst, Luther cut in: "With all due respect sir, you don't need an anger translator, you need counselling."
He then quickly exited the stage, but not before stopping by Michelle Obama to whisper: "He's crazy."
Related Topics